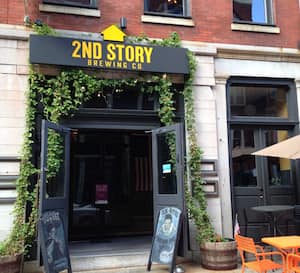 PHILADELPHIA, PENNSYLVANIA
A block from Penns Landing at Philly's Old City neighborhood, 2ND STORY BREWING CO. opened its doors autumn 2015 at the former Triumph Brewing site. A modern Industrial 'rustic chic' wood-furnished pub with elongated 20-seat chop-block bar (and multi TV's for sports fans), its upscale mezzanine banquet hall (with secondary bar) and glass-encased brew tanks fill out the exquisite 'second story.'
Crafting classically inspired farm-to-table brews utilizing locally sourced ingredients, 2nd Story brewmaster John Wible's revolving taps served four original in-house brews on my initial front patio visit during May '21.
The laidback barley-smoked campfire setting of dewy Old City Is Burning Rauchbier relegated seared beechwood singeing for caramelized rye sweetness.
Dark candi-sugared dried fruiting delicately glazed the oats-flaked splet graining of Dirty Girl Farmhouse Ale, anchored by leathery barnyard acridity.
Lightly creamed pale malt sugaring snagged lemony herbal fungi muskiness and mild lemongrass zesting for Fielders Lemongrass Pale Ale.
Casual lemony grapefruit spritz enlivened 2020 Vision IPA, a dry moderation pitting raw-honeyed pale malting against tamped-down hop herbage.