SILVERTHORNE, COLORADO
Inside a freestanding blue-and-gold brick edifice just off Route 70, Silverthorne's BAKERS BREWERY opened March 2015. Formerly the historic Village Inn, Bakers Brewery's café-styled dining space at the foothills of the Rocky Mountains offers not only a friendly assortment of beers, but also homemade pub-styled dishes, creative cocktails and freshly baked goods.
Doing a fine job creating a 'contemporary brewpub experience,'  Bakers Brewery centers around its stellar granite-marbled beetle wood bar (with rusted corrugated tin siding). An open kitchen serves the bistro-like tables and chairs sidling the bar while TV's line all corners. Semi-private back seating's available near the 15-barrel brewing system and a small outside patio offers further space.
Working at nearby Dillon Dam for 15 years prior, experienced brew master Corey Forster crafts a full range of popular local faves, everchanging one-offs and infused concoctions. During my relaxing two-hour afternoon perusal, March '19, I sampled eight of Forster's delightful potions while looking out at the snow-covered Colorado mountain range.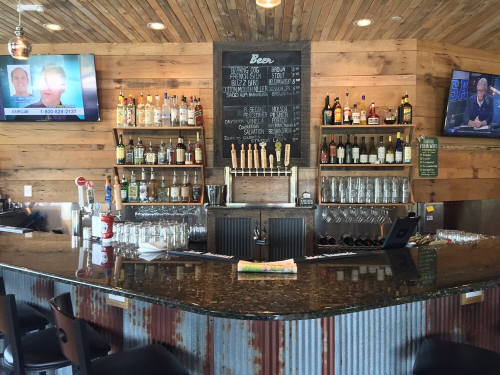 First up, zestful Cotton Mouth Killer Session IPA laced lemony grapefruit-orange peel bittering with dainty floral herbage above caramelized pale malting.
Next, citrus-spiced dark fruiting engaged Belgian Rebellion Pale Ale, loading fig-apricot-plum niceties alongside lemony orange tanginess and peppery herbal hops atop caramelized rye malting.
Perhaps Bakers' finest offering, durable Double Diamond Imperial Red Ale brought caramel-spiced honey nut sweetness to tropical citric hop fruiting and tertiary fig-prune notions.
Leathery red wine tannins pervaded Bourbon Barrel Sour Saison, a dry farmhouse ale forwarding vinous bourbon-aged burgundy tones to puckered lemon lime acidity.
Sharply dry Winter Is Coming Imperial Dark Saison placed plum, prune and date illusions beside its spruce-tipped chai tea spicing, picking up caramelized wheat sweetness over time.
Brown-breaded earthen grains consumed spot-on Barking Dog Brown Ale, an English-styled Mild Ale with lightly seared nuttiness and dark cocoa snips pervading brown-sugared molasses malts.
Merrily mocha-infused Tag-Along Sweet Stout allowed rich chocolate, cocoa and coffee tones to engage nutty pecan-almond notions slightly embittered by walnut-charred blackened hop oiling.
Lustrous Sumatra coffee beans detailed lovely French Silk Stout, a creamily mocha-heavy full body with smoky dark chocolate and powdery cocoa undertones gaining mild earth-scorched hop bitterness.
thebakersbrewery.com