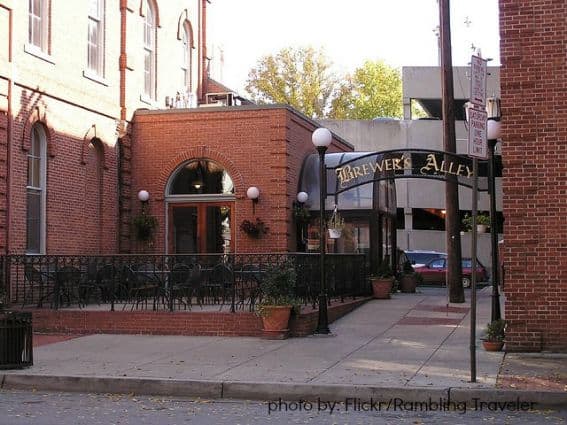 FREDERICK, MARYLAND
Visited November '06, this former Union-Confederate battleground near Sugarloaf Mountain 100 miles west of Baltimore hosts Brewers Alley Restaurant & Brewery and, on the outskirts, Barley & Hops Grill.
Opened 1995 and centrally located in a red brick building formerly housing Frederick City Hall (and then an opera house), BREWERS ALLEY patrons enter through a black archway to a side entrance atrium with stain glass windows. Its olden oak bar with wood tables and glass-encased brew tanks are separate from less noisy right side dining area. Variegated menu had four different paella dishes, sundry seafood platters, and wood-fired pizzas to go with single malt Scotches, fine wines, and cognacs.
Enjoyed mild corn-syrupy oats-honeyed yellow-fruited prickly-hopped Kolsch, kiln-smoked grassy-hopped grapefruit-peach-dabbed India Pale Ale and biscuit-y banana-cloved bubblegum-sweet Weizen with dinner. Inferior hazelnut-molasses-depleted Nut Brown Ale was too astringent.
Hop-roasted nut-coarsened Oatmeal Stout may've been weak, but piney-hopped, red apple-centered, orange-bruised, apricot-ripened Resinator and gooey cherry-banana-bruised, fig-date-grape-sidled, peat-malted Scotch Ale exceeded expectations.
Revisited Brewers Alley June '20 on a sunny afternoon, gathering at the black gated patio with wife and dog. A promenade was set up for Covid-19 restrictions and chairs were also set up in the street.
Retried year round selections such as delicate lemon-dried, grassy-hopped, orange-spritzy Kolsch and soft-toned, banana creamed, chocolate-malted, wheat-sugared,  Dunkelweizen.
The updated English-styled India Pale Ale retained dry wood tones, spry floral-hopped citrus tanginess and rye-spiced pale malts.
As for the newly tried, mild blueberry pureed Blueberry Wheat let washed-out blueberry-boysenberry tartness recede alongside light vodka-nipped juniper above wavered white wheat base.
Gentle light-bodied Pilsner placed floral-hopped herbal spicing inside husked corn-maize astringency and biscuity barley malts.
Distinct specialty grained 1634 Ale fortified its standout caraway molasses sweetness with floured rye, caramelized pumpernickel and roasted tobacco, creating an 'austere colonial' setting.
Locally sourced beets gain lemony cranberry-crabapple-blueberry souring for 1634 Ale – Beets Trial, an alternative version with bitter raw molasses hiding its multi-grain origins.
Velvety cask conditioned Irish Dry Stout, Trinity – Cask, brought dark-roasted coffee sedation to mild mocha molasses caking.
Coffee-milked dark chocolate enriched maple-sugared oats for Oatmeal Stout, leaving a soft nutty mocha remnant on the back end.
Splendid Barrel Aged Oatmeal Stout, conditioned in High West Bourbon and Stranahan whiskey barrels, retained a taut bourbon vanilla sweetness penetrating dewy earthen wood tones as ancillary creme brulee, chocolate cake, toasted coconut, fudged caramel and marshmallow illusions deepen the spirited nightcap.