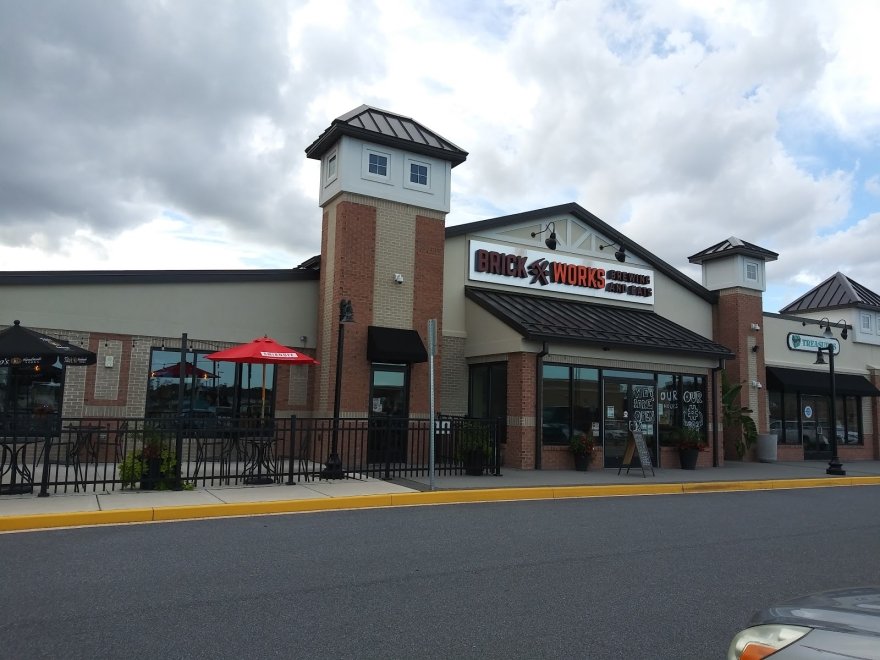 MILLSBORO, DELAWARE
Opened June 2019, Millsboro's BRICK WORKS BREWING became the second franchise started after the original Smyrna pub took hold. Fourteen miles from the Delaware beaches in a sleepy suburban community at the Taormina Square mall, the cafe-designed Brick Works operates out of the same stately-styled red brick ranch as its first site.
A large black metal-fenced deck surrounds the entrance leading to the left side barroom featuring a 20-seat L-shaped bar with 14 tap handles, top shelf liquor, two central TV's, decorative fire company ladders and ceiling-hung Edison lights. Several windowed brewtanks peek out from behind the bar. The sienna-walled right side cafeteria clusters wood-metal furnishings in front of an open kitchen serving worthy pub fare.
I had the crab and corn chowder while consuming five previously untried libations early November '21 while watching Alabama beat LSU in nightly college football.
Whiskeyed banana-breading insistence gained spicy clove-coriander sugaring and zesty lemon spritz for Heff Off, a heady hefeweizen with mildly vanilla-creamed wheat base.
Peach cobbler pie crusting penetrated the spritzy citrus zesting and subtle honeyed apricot-nectarine fruiting of Princess Peach, a puree-infused pale ale.
Briny strawberry-kiwi tartness received mild lime souring for Strawberry Kiwi Sour, picking up wispy hard cider, gooseberry and cranberry bittering at the rhubarb pie midst.
Creamy S'mores-like confection, Chocolate Covered Pretzel Stout, loaded marshmallow fluffed brown chocolate sweetness inside wheat-honeyed Graham Cracker wrap, overshadowing any salted pretzel influence but gaining a rich chocolate pudding skin texture.
Another S'mores-candied confection, S'mores Part 2 Stout, engaged its cinnamon Graham Cracker-honeyed dark cocoa and mild vanilla-marshmallow sway with creme brulee, spiced toffee and plummy black cherry illusions for heavenly dessert.