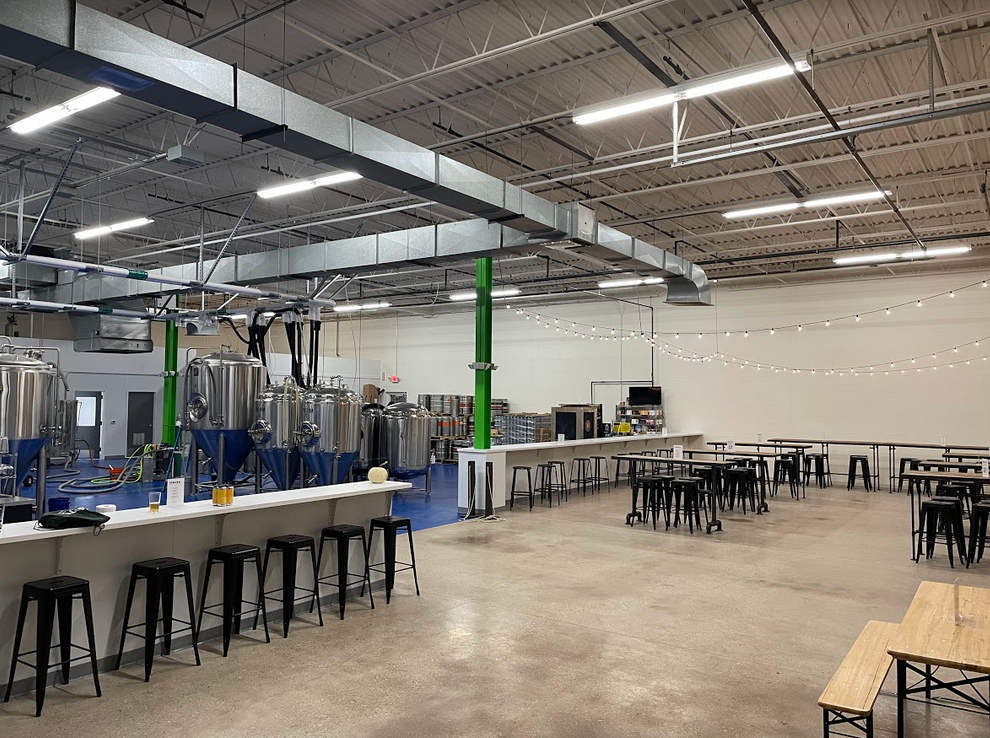 HATFIELD, PENNSYLVANIA
Taking up 10,000 square feet at a beige brick-fronted Industrial mall in Hatfield (a northwest Philly suburb), versatile independent enterprise, CO-HOPS BREWERY & CANNERY, came into existence during autumn '21. Pennsylvania's first full service contract brewing facility opened for public consumption, the proprietary craft beer haven crafts beer for many local startup homebrewers, even creating a few of their own liquid product alongside fine fanfare from Sutton, Radiant, Loso, Bucks County and Langhorne, to name a few.
At Co-Hops, entrepreneurial veteran brewer, Joe Modestine, offers methodological advise, equipment and spirit to the ensuing zymurgic denizens getting readied for regional distribution. His family ran a successful saloon before he began brewing in his garage prior to founding nearby Doylestown Brewing in 2011 .
At Co-Hops, Modestine prepares kegged and canned suds for on-site/ off-site consumption. The bright blue-floored brewing space backs an inconspicuous serving station inside the beige-walled, high-ceilinged, overhead-doored warehouse. There are tables and benches neatly placed across the ultra-clean cement floor pub.  A small left side lounge with small wood tables and couch serves as a dinky private space while a picnic area with firepits provides outside quaffing.
I consumed three original Co-Hops brews and a few days hence some worthy canned 'gypgy' brews by Radiant, Sutton, Steel City, Loso and Like Minds (reviewed in Beer Index) while perusing Co-Hops early February '22.
Brisk lemon-limed Cashmere hops meet floral-herbed Loral hops for Co-Hops Hazy Pig, a sessionable hazy India Pale Ale with lively tangerine tanginess and resinous pine snips above sugared pale malts.
Bright orange, tangerine and grapefruit tanginess guided spritzy Hatfield Haze, a lightly herbed New England IPA gaining mild mango, guava and starfruit tropicalia.
Dark chocolate syrup draped salty peanuts and sweet coconut for Co-Hops Hawaiian Stout, a dewy full body with distant cold-brewed coffee, espresso and spiced toffee illusions.