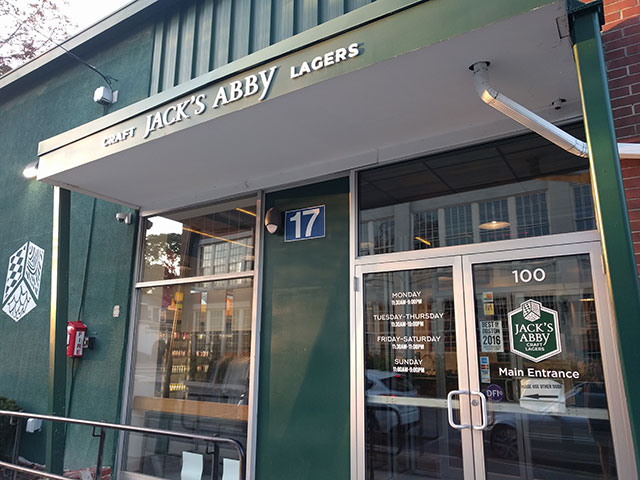 FRAMINGHAM, MASSACHUSETTS
Designing some of the most impressive lagers, dark ales and barrel-aged stouts in the entire country, Framingham's JACK'S ABBY BREWING has tripled in size since opening in 2011, becoming a premier New England craft beer haven on a grander scale than the fabulous, less glorified Ipswich Ale Brewery. The pride of Jack, Eric and Sam Hendler, three Massachusetts-based brothers originally inspired by German beer culture, Jack's Abby now encompasses an enormous red brick warehouse (with forest green aluminum siding).
Presently the largest microbrewery in the state, Jack's Abby occupies a high black-ceilinged 1,300-barrel taproom with multiple barrels, brew tanks and canning operation connected to its community-tabled bar area. A food station with wood-fired pizza oven serves fine pub fare. A roomy side deck offers further capacity.
Entrance to Springdale Beer Co. pictured above
In 2016, the maverick Hendler brothers decided to expand their empire to include SPRINGDALE BEER COMPANY, an offshoot taproom and blendery experimenting with sour ales, tarts, cocktail-inspired knockoffs and barrel aged fare.
I'd already tried at least thirty Jack's Abby and a dozen Springdale offerings before my initial June '21 visit to purchase a few new brews, including stylishly enhanced Samoa Bourbon Barrel-Aged Framinghammer Baltic Porter, semi-dark Czech lager Co-Pilot: Leopold, Pride and Parquet Hoppy Lager and Ray Catcher Lemongrass Lager (reviewed in Beer Index).