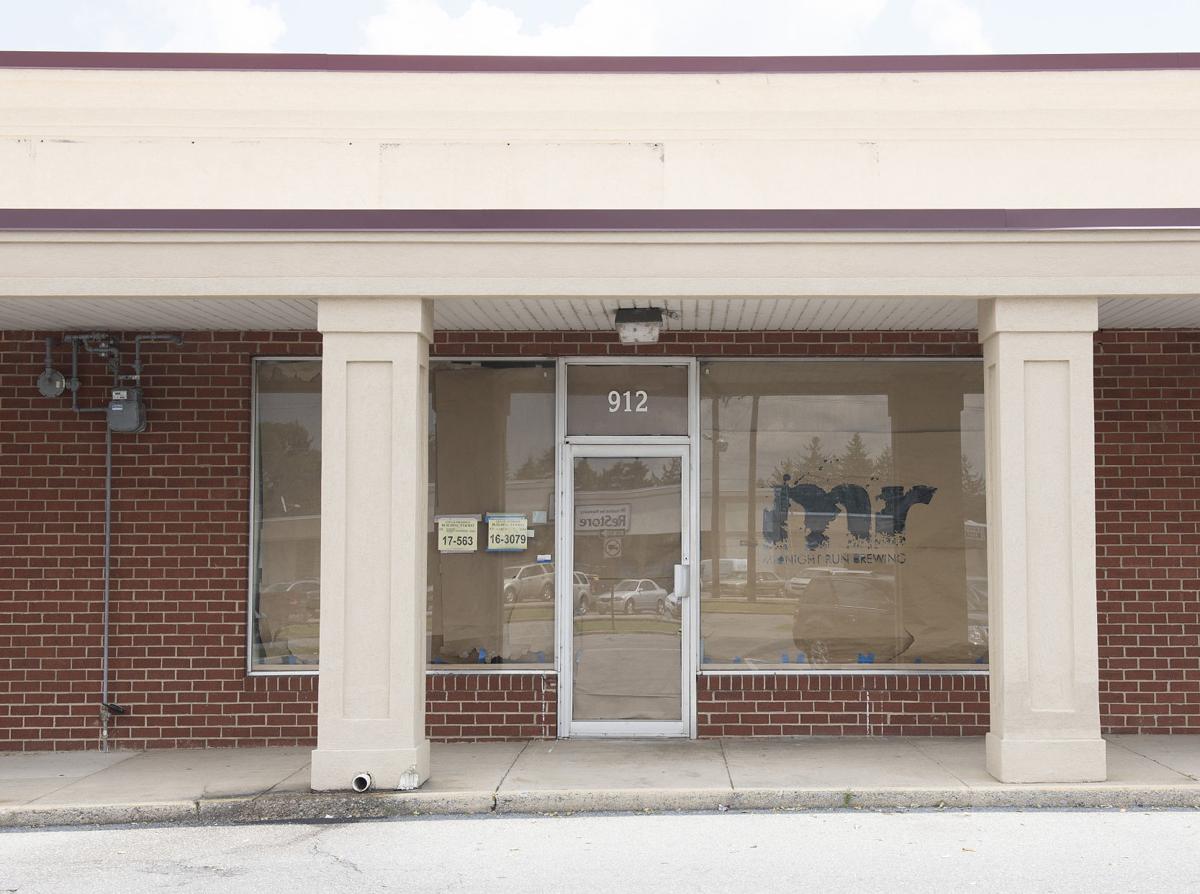 FREDERICK, MARYLAND
Former garage-bound alchemists now specializing in 'non-conformist ales,' MIDNIGHT RUN BREWING is the creation of two collaborative friends, Rich & Brent. Since opening September '17, the crafty science and art duo have continued to make unique small batch brews for local brethren and traveling connoisseurs alike.
Inside a freestanding red brick edifice dressed up in black art deco, its stained concrete floor, exposed pipes and milled wood left wall retain a semi-rustic feel. A three-barrel brew room is in the rear and an Edison light-chained back patio has three community tables.
Startling the senses with some of the most original, exciting and varied brews in Western Maryland, Midnight Run began serving suds Saturday at noon for my June '20 visitation.
Limey blueberry bittering gained honeyed oats sweetness for sessionable Eternity Pale Ale, a tidy light-bodied opener.
Flagship India Pale Ale, Tempo, maintained sessionable accessibility as vibrant grapefruit, peach, tangerine, mango and papaya tropicalia seeped into piney wood tones as well as salty-spiced white peppering.
Sweet vanilla-creamed orange tang serenaded 'hazy IPA,' All Together, picking up herbal piney hop resin and brisk grapefruit-peeled lemon licks.
Zesty orange peel briskness dominated S.I.P.A., a crystal malt sweetened India Pale Ale with subtle herbage.
Crisply clean Imperial IPA, Atat, brought peachy orange-candied grapefruit tanginess to wood-dried peppery herbs and sturdy pale malting.
Dewy Belgian yeast added fungi cellared mildewing to bittersweet grapefruit-peeled orange zest for Continuum, a funky tropical (Citra-El Dorado-Cashmere-hopped) IPA.
Mild powder-candied raspberry tartness and vinous white grape must enveloped easygoing sour ale, Electric Monster: Sweet-Tart.
Mellow Belgian Blonde, Golden Child, tranquilized the tongue with its spicy lemon-candied repose, dainty banana bubblegum stint and herbal lemongrass nip.
Debonair 'golden quad,' White Devil, revealed candi-sugared spiced rum, banana daiquiri, sugared fig, candied apple, lemon meringue, creamy vanilla and Chardonnay illusions dotting white-peppered clove, allspice and ginger snips in a dank cellared fungi yeast setting.
White chocolate-like Imperial Blonde Ale, White Sexual Chocolate, allowed vanilla-creamed cocoa nibs to caress light whiskey tones over dry honeyed pale malts. 
Caramel espresso latte knockoff, American Darkness Oat Stout, let molasses maple oats sweeten its ancillary cocoa nibs, toffee and vanilla daubs against tarry black patent-malted bittering as distant bruised black cherry notions and mild anise spicing surfaced.
Confectionery chocolate-candied Imperial Milk Stout, Milky Way, proved exceptionally luscious as caramel, vanilla, toasted coconut, marshmallow and molasses cookie undertones kept the sweetness going strong. The fudgy Milky Way knockoff also revealed latent cocoa-dried espresso serenity, bruised cherry tartness and hazelnut pasting.