SUDLERSVILLE, MARYLAND
A snack-sized shack smack dab in a rural animal farm on Maryland's Eastern Shore, PATRIOT ACRES became the region's first farm brewery around 2017. Entrepreneurial married brewers, Brian and Shauna Truitt, craft some of the best soft-toned suds you'll ever experience. Brian Truitt, an Army vet first compelled to unwind by basement brewing, soon expanded his scope and opened this ambitious family-owned 100-acre nanobrewery thereafter.
Enjoying a wide variety of beers gave the Truitt's a keen sense for Patriot Acre's stylishly traditional recipes. Adjoining the rustic pub (with eight draught handles and back-roomed brewtanks) is an enclosed deck with heaters. There's also outside seating amongst the free range chickens, sheep, goat, alpacas and guardian sheepdogs.
A few ducks sit at the table behind the swivel-seated wood-topped serving station alongside several happy patrons while I sample seven tidily crisp handcrafted beers and one fine cider during a beautifully sunny seventy-degree January '20 afternoon.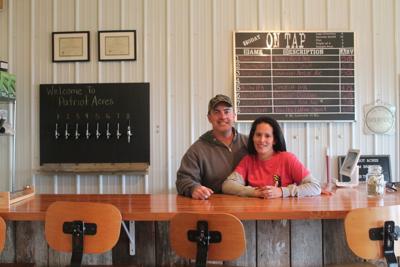 For starters, sweet champagne yeast fortified Fastcar Hard Pear Cider, lacing its candied apple tartness with syrupy Bosc pear splendor.
Casual light-bodied pilsner, Thunderbird Light, contrasted wispy maize-dried barnyard astringency with corn-sugared pale malting in a delicate herbal hop setting.
Mildly caramel-toasted graining subtly sweetened the herbal hop stead of easygoing lager, Olivers Amber.
Dewy peat moss saddled bi-coastal Goffer English IPA, a muskily mineral grained British styling with sweet Maris Otter malts securing Americanized citric-piney hop bittering (a la brisk lemon, grapefruit and orange peel zesting).
Even better, ultra-smooth fruit juiced IPA, Mugatu's Mosaic, brought peachy mango, grapefruit, orange, pineapple and tangerine tanginess to the dry-hopped 'Mosaic' above sugary pale malts.
Earning the title of 'first beer brewed onsite,' tantalizingly sweet Stormy Stout let dark chocolate syruping drape maple molasses oats and subsidiary vanilla, espresso, fudge and cocoa niceties with confectionary precision.
Using Stormy Stout as its base, peanut butter-oiled nitro stout, Brian's Peanut Butter Delight, brought mild chocolate-vanilla creaming and wispy black cherry/ black grape nuances to its PB&J likability.
For a solid sendoff, light-roast coffee tones engaged delightful java alternative, One Eyed Penny Coffee Porter, leaving milky espresso and café au lait undertones upon the soily earthen bottom.
patriotacresfarmbrewery.com