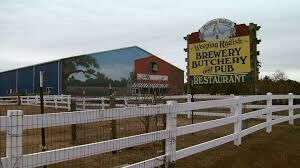 GRANDY, NORTH CAROLINA
Established in 1986 by Bavarian-born brewer Uli Bennewitz, WEEPING RADISH BREWERY BUTCHERY & PUB originated thirty miles south in Manteo to become North Carolina's first microbrewery. Now thriving in their new Grandy digs since 2011, the spacious A-framed auqa blue farmhouse includes a wood-furnished pub, dog-friendly front deck, orchard-clad parking lot and gated goat area. Though their beers are staidly conservative and generically formal, the salads and German-styled meat dishes kicked ass.
Crafting mostly German-styled ales at the huge warehouse backspace, Weeping Radish serves the entire East Coast with bottles and cans. Their OBX Beer (a fair Kolsch) has received multiple plaudits (reviewed in Beer Index).
On my mid-July stopover before hitting the Outer Banks beaches, I grabbed worthy one-off, Oyster Bock. Its creamy oyster-shelled salinity added texture and richness to bittersweet black chocolate and cocoa malting as well as dried fig tartness above boggy earthen mossiness. My wife settled on a pint of Weizen, where lemony mandarin orange outdid stylish banana-clove tartness, herbal chamomile notions and lightly honeyed white wheat sweetness.