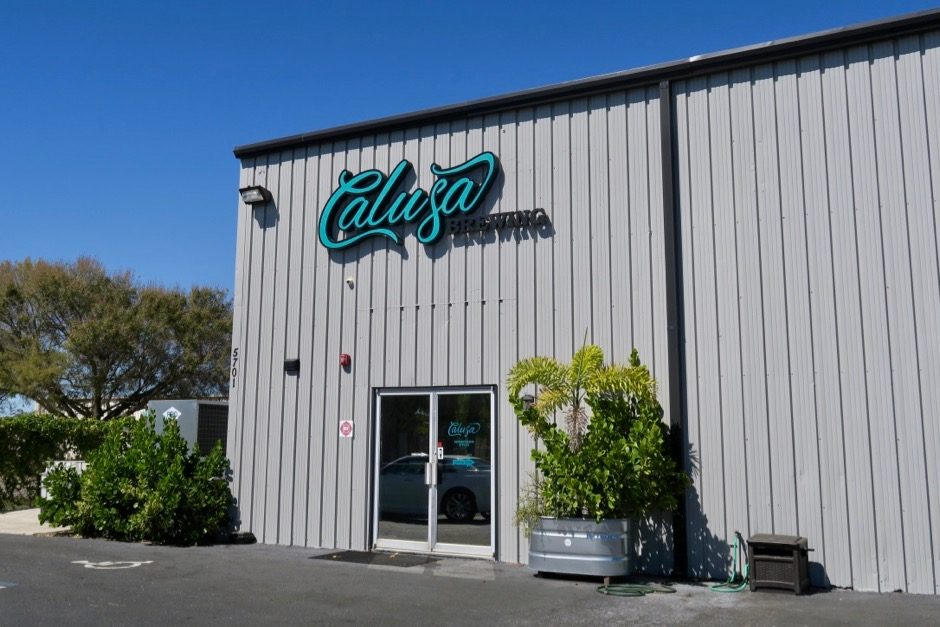 SARASOTA, FLORIDA
Taking up an entire gray warehouse a few miles off Sarasota's bustling Route 75, CALUSA BREWING opened up in 2016. Utilizing a large left space for a silver tank-dominated 15 barrel system and several oak barrels (for sour ales and wood-aged elixirs), head brewer Jason Thompson crafts a veritable cornucopia of amazingly consistent and totally iconic traditional styles.
Entering the separate right side drive-in doored taproom in late April '19, my wife and I take a seat at one of the seven tables serviced by the 12-seat U-shaped bar. Many oak barrles line the back wall while a beautiful mural with an octopus attacking a shipwrecked pirate takes up the aquamarine front wall. There's even a billiard table.
During our one-hour pre-dinner sojourn, the NHL playoffs are shown on the back-walled TV as I imbibe four fine IPA's and two contrasting stouts.
Briskly hopped yellow grapefruit juicing led zestful moderate-medium body, Minus Zero IPA, letting barley-floured sourdough malting scour limey pineapple, mango, guava and melon rind tropicalia.
Perfectly centrist in appeal, stylishly straightforward V.I.B.E. Eagle IPA, connected tangy citric-pined Mosaic hop aromatics to bittersweet mango-peach-nectarine-influenced El Dorado hop niceties and lemony gooseberry-soured Moteuka hop tartness.
Zesty grapefruit and orange peel tanginess thrusted forth for cleanly refreshing Mosaic-Galaxy-hopped Naked Villainy Triple IPA, a surprisingly strong (10.5 ABV) medium body with barley-floured haze and light sugared spicing.
Its rival triple IPA, Mind Burst, employed new hop varieties (Sabro/ Denali 105) to sharpen its Citra grapefruit-peeled orange rind bittering, leaving wet-grained herbal dankness at the back end.
Tarry black chocolate bittering and light wood tones gathered for King's Creature English Export Stout, a dry espresso-finishing dark ale.
For dessert, outstanding Caribbean-styled Mountain & Sea Imperial Sweet Stout wrapped its richly creamed dark chocolate malting around toasted coconut, vanilla, hazelnut, sugared coffee and Graham Cracker alacrity. A perfect Floridian nightcap!
These are only a few of the 70-plus beers Calusa has created since its initial setup merely three years hence.