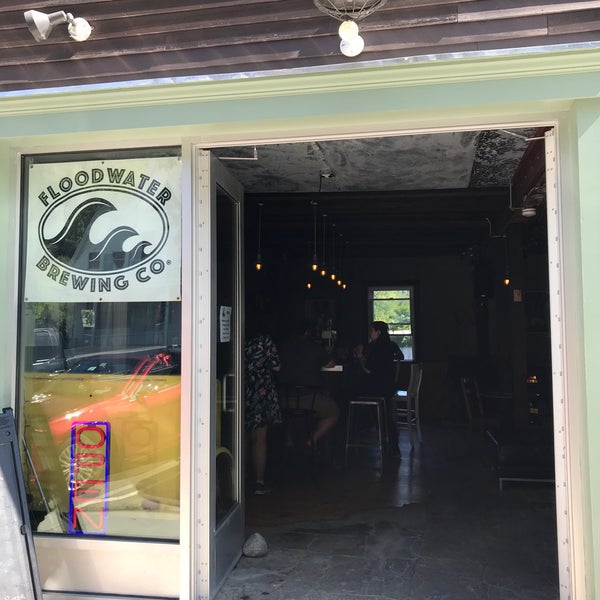 SHELBURNE FALLS, MASSACHUSETTS
Alongside the banks of the Deerfield River and walking distance from the bucolic Bridge of Flowers, the village of Shelburne Falls' FLOODWATER BREWING COMPANY opened on a weekly basis November 23, 2018. Beforehand, the rustic nano was a small tasting room.
Operated by long-time mad scientist, Zack Livingston, a veteran Control Engineer for green energy waste water treatment, Floodwater's inspirational all-purpose entrepreneur enjoyed the brewing environment California's highly regarded Bear Republic, Lagunitas and Firestone Walker provided while working out west.
Floodwater's diminutive gray-walled barroom consists of an eight-seat L-shaped aluminum-topped bar containing six tap handles. There's also a couch area (with small table) plus plastic and wood beach chairs strewn about. Stainless steel brew tanks are behind the bar and at the basement (where fermenting tanks and a canning line exist).
I visited Livingston's retreat on a bright sunny day, July '21, downing a terrific nitro stout and locally-sourced grain-billed NEIPA before taking home the sassy saison and mellow maibock also reviewed below.
Rustically tranquil, One Fuggley, an earthen Fuggle-hopped blonde ale, placed sharply prickled lemon lime spritz inside caraway-seeded rye breading, hay-like buckwheat grassing and dry wood tones, leaving wispily spiced dank floral aspect on the back end.      
Efficiently rounded farmhouse ale, Euro Step Saison, let white-peppered herbal spicing accept zesty lemon splurge, leaving barnyard-dried horse-blanket leathering to scour rosemary-sage-thyme seasoning and fern-like evergreen minting.
Easygoing summertime maibock, David Hasselhoff  (utilizing 100% Massachusetts grain bill), brought forth a lemon-daubed fruit bouquet to top its grassy-hopped herbage and maple honeyed Scotch malting, rendering ripe berry-cherry juicing.
Soft-toned Cyborg Joan, a dryer sessionable NEIPA, allowed lemony orange peeled oiling to soaked up tannic grape tartness, mild earthen herbal musk and bark-dried pine tones to its creamy crystal malt core.
As for dry Irish Extra Stout, No Hard Border, its creamy nitro froth brought espresso tones to nutty dark-roast coffee bittering and cocoa-powdered black chocolate chalking as floral-daubed Magnum hop black peppering seeped way beneath.