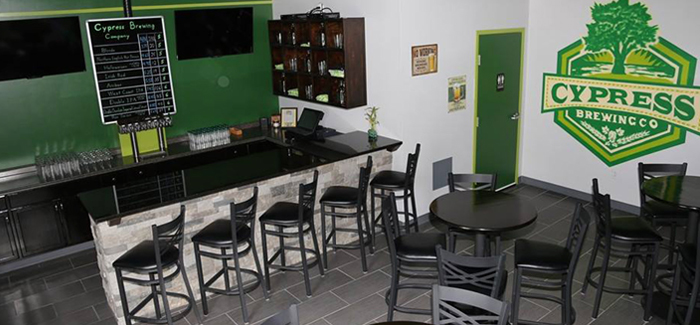 EDISON, NEW JERSEY
Despite its small, demure serving station area, CYPRESS BREWING COMPANY has the warehouse capacity for enormous growth. Open since 2015, its large silver tanks prove expansion doesn't have to take place off-site anytime soon. Residing at a tucked away tan-bricked Industrial Park just off the Garden State Parkway near the Raritan River, Cypress currently specializes in a few recurring draughts, some canned fare (such as the popular cranberry-pureed Thanksgiving offering, Miigwetch Pale Ale) and sundry tapped one-offs.
A beautiful back wall-painted Cypress banner salutes patrons to the left side hunter green-walled, blacktop-slated, stone-laid serving station (with eight taps, two TV's and blackboard beer listing). Its porcelain grain wood floor tile, three rounded black-hued Industrial tables and inlaid cypress tree mural on the opposing wall bring a sterling feel to the pristine bantam space.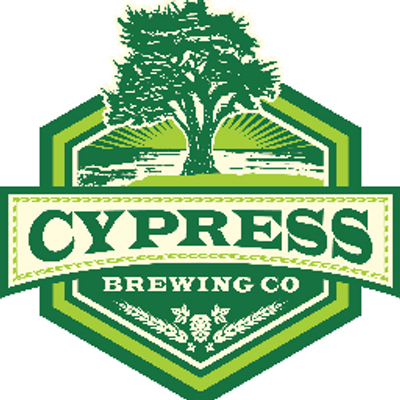 My wife and daughter join me on New Year's Eve 2018 as I down five worthy afternoon draughts – four of which leaned to the dark side.
First up, vivacious dry-hopped medium body, Insane In The Grain IPA, brought sharp yellow grapefruit tanginess and sweet orange peel zest to the fore as resinous piney hops subsumed the backend (where wispy mango, peach and pineapple tropicalia snuck in). A true counterpoint to the following darkies.
Dry Northern English Nut Brown contrasted its walnut-seared hop char with less enthusiastic glazed hazelnut sweetness and soap-stoned peanut shelling.
Ample nuttiness also welcomed Alva Imperial Porter, leaving molasses chocolate-sugared dried fruiting on the tongue alongside serene walnut, Brazil nut and charred chestnut licks.
Fully realized dessert treat, Nice Imperial Lactose Stout, let cocoa-beaned milk chocolate richness gain cinnamon-spiced ginger leaf minting.
Its more aggressive chili-peppered version, Naughty, allowed its fudgier cocoa persuasion to retain tidy brown-sugared cinnamon coffee tones.
cypressbrewing.com