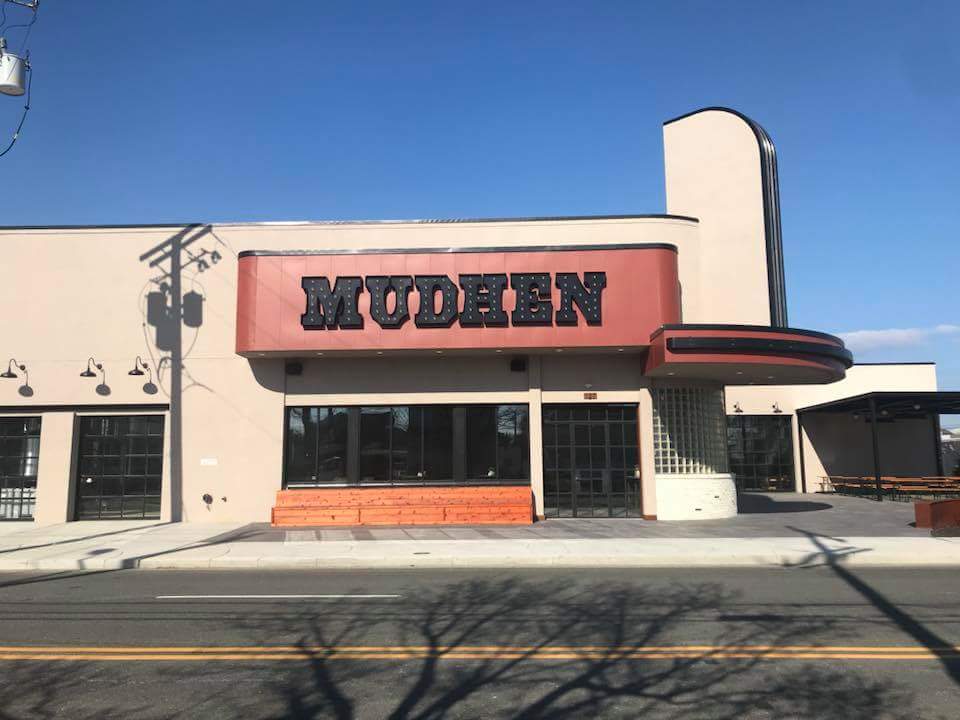 WILDWOOD, NEW JERSEY
Going all out to be the most vibrant spot on Jersey Shore's highly active party capitol, Wildwood, MUD HEN BREWING COMPANY takes up an expansive taupe-hued Mediterranean-styled lot about a mile away from the beach.
Open during 2017, its enormous illuminated Mud Hen signs invite beachcombers of every stripe to join in on the fun. A multifarious space including a gray slate-floored main space, garage-doored café-styled barroom and large partially covered side patio, its rounded entrance overhang is reminiscent of a grandiose movie theatre.
The obsidian Cathedral-ceilinged main area includes a 30-seat slate-topped bar along the rustic brick wall dividing its massive windowed silver brew tank display. A ten-tabled loft area overlooks a barrage of industrial tables and chairs.
My wife and I (and dog Roscoe) get seated in the sun-lit patio for early dinner this sunny Saturday afternoon, April '19. The pub fare's solid and the specials included my fab veal dish.
Lemony herbal ginger enlivened tart banana bubblegum expectancy of Holly Beach Wheat, leaving mild orange-peeled coriander spicing upon its supple white wheat spine.
Soothingly dried-fruited moderation, Wise Hen Bock let raisin, fig and prune illusions soak into its brown-sugared banana breading and toasted caramel malts.
Dewy peat-smoked Scotch ale, Wee Heavy Wilson, brought seared beechwood influence to caramelized pale malts in fine fashion.
Dark-roast black chocolate consumed nutty coffee-smeared full body, Capt. Doug's Porter.
Creamily frothed Primary Cut – Bakers Double IPA put its citric-pined medium body on nitro, letting its lingered grapefruit peel bittering and tangy orange follow-thru gain a sweet vanilla-dipped caramelized pale malt tranquility to contrast its phenol hop resin.
Did miss out on flagship 1883 IPA, though.
On Leap Year Day '20, revisited Mud Hen to try an easygoing German pilsner and one bright 'n fruity local collaboration.
Musky light-bodied Mud Hen Pils grazed lemon-rotted Noble hop herbage and mild maize astringency against corn-flaked rice caking.
Mud Hen and Gusto combined to draft zestful Crossover Episode NEIPA, a juicy-fruited affair boasting lemony grapefruit sunshine and sweet orange peel tang countered by sour guava-pineapple-passionfruit subtleties as well as grassy hop astringency.
www.mudhenbrew.com