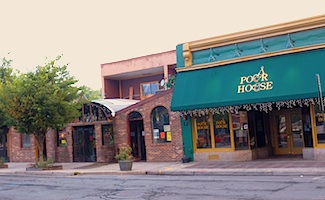 NYACK, NEW YORK
Making no bones about their American heritage, Nyack's POUR HOUSE prides itself on unwavered nationality as ubiquitous United States flags, Americana food and stateside beers welcome local denizens and curious travelers. Based in a historic bohemian community just up the hill from the Hudson River and 20 miles northwest of the Big Apple, this amiably cozy two-room sportsbar features TV's at every conceivable corner, 20 tap handles and 100 bottled beers (mixing well-known craft offerings alongside several reliable macrobrews).
Founded in 2010, Pour House soon became the #1 sportsbar and grill serving 'innovative entrees,' burgers, pizzas and salads to go with its well-chosen brews, creative cocktails and lively spirits. Its windowed blue awning frontage, hardwood floors, acoustic ceiling tiles, potted plants and stooled tables fill the interior alongside the 20-seat bar.  
My wife and I first visit Pour House for Monday dinner in early June, 2015. As we enter, Lynyrd Skynyrd's celebratory "Sweet Home Alabama" is playing. Upon leaving, the Southern rockers' cheeky barroom tale, "Gimme Three Steps," blares from the jukebox. In between, Creedence Clearwater Revival, ZZ Top and several classic rock gems receive airtime.
Though I was already well acquainted with the tapped beer selections, the refrigerator near the checkout register provided the previously untried Full Sail Original Amber Ale, a brisk citrus-hopped medium body with pale-malted yellow grapefruit and orange rind bittering. Loaded Fries with cheddar-cheesed bacon and scallions made for a filling appetizer while Pastrami Reuben and Cheesesteak hoagie also sufficed.
Whether serving friends, family or business associates, Pour House will satisfy hunger and thirst with blue-collared workmanlike efficiency.