BOSTON, MASSACHUSETTS
Strategically beginning operations on July 4, 2018, DEMOCRACY BREWING celebrates Independence Day on a daily basis. In the heart of Boston's Downtown Crossing, this blue-faced side street pub boasts a German beerhall atmosphere while its decorative wood furnishings, old-fashioned wagon wheel chandeliers and stark arched columns provide serene Revolutionary Era antiquity.
Cozy wood booths and tables sidle the 20-chaired, red brick-walled bar (with 12-plus draughts and 2 TV's). The brew tanks are located upfront in an exposed front cellar.
My wife and I grab seats at the central draught area on a glorious Saturday afternoon, May '19, to quaff five stylishly conservative, yet well defined and balanced, Boston-made brews.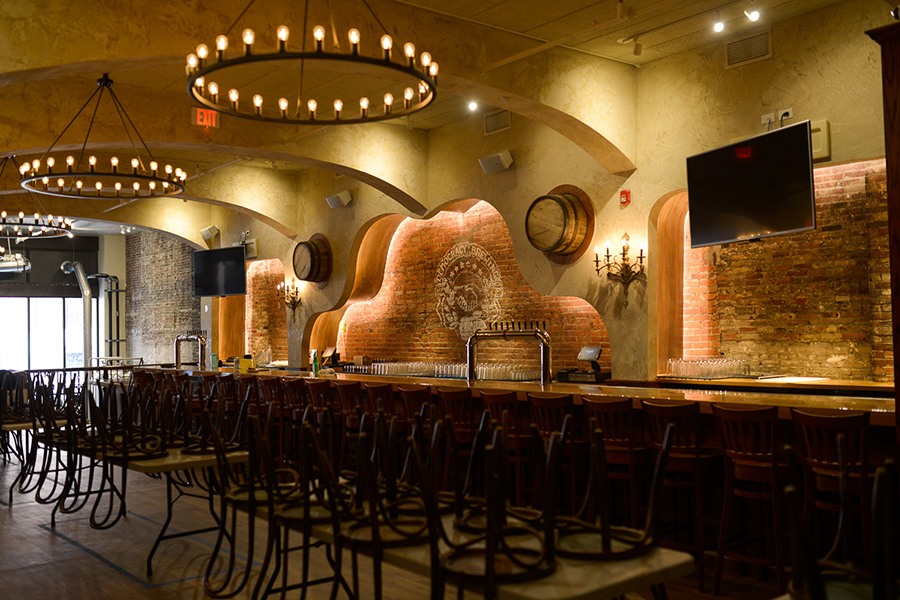 Muskily dry lemony herbage seeped into light-bodied blonde ale, Workers Pint, an approachable pilsner-malted, citric-spiced flagship.
Sassy farmhouse ale, Fighting 54th Saison, gathered peppery chamomile-lemongrass herbage to sidle its tangy lemon-soured tangerine briskness and sweet banana-clove ascendance.
Dewy English bitter, Cellar Door, let moderated black tea-like bittering relegate its orange-dried pine resin and pale malted amber graining.
A frisky lemon spritz picked up mossy earthiness and dank wood tones for medium-bodied Imperial IPA, Consummate Rioter, leaving lightly spiced grapefruit-orange rind bittering in its wake.
Cold-brewed Peruvian coffee added medium-roast bitterness to Crash Coffee-Infused IPA, letting latent IPA-like citrus-spiced wood tones linger lightly at the brusque java finish.  
Unfortunately, the ever-popular Irish-styled 1919 Strike Stout, was unavailable.
www.democracybrewing.com