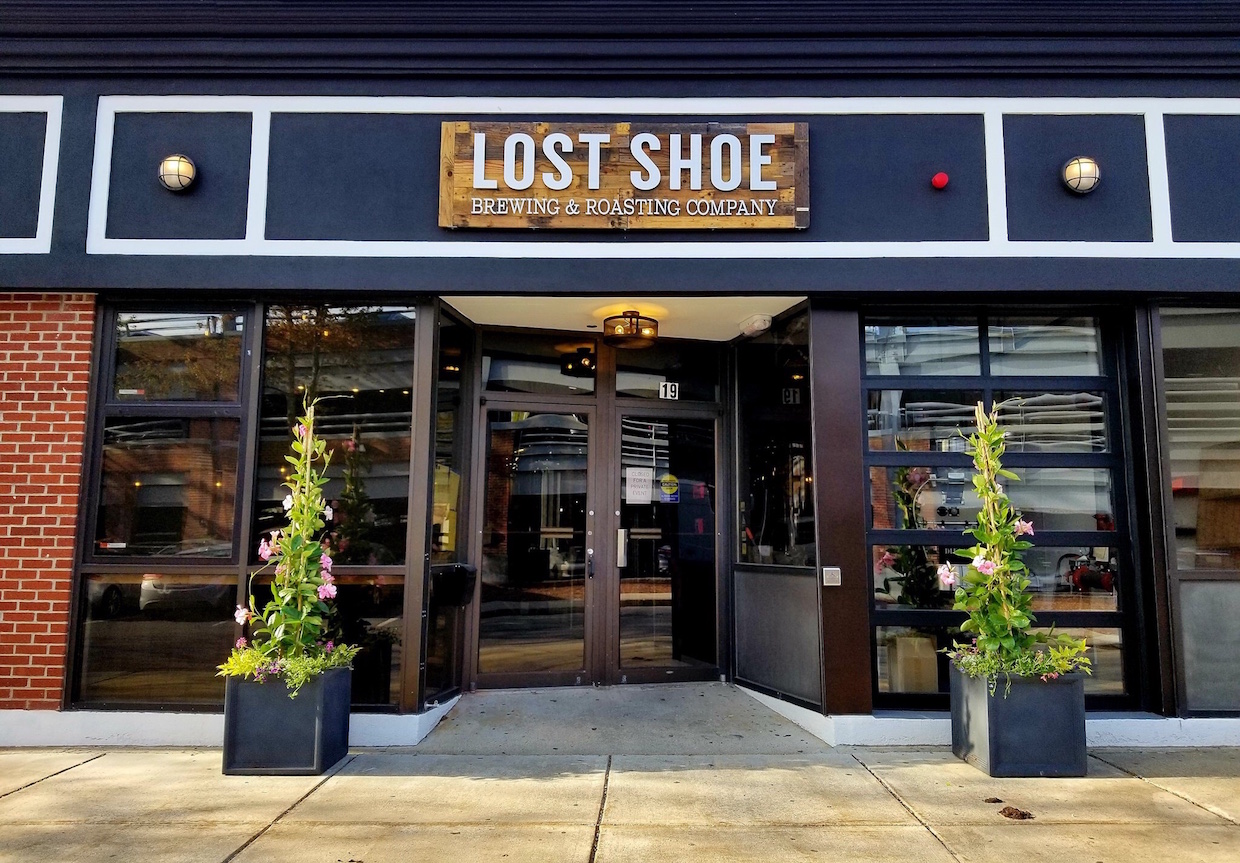 MARLBOROUGH, MASSACHUSETTS
Occupying a red brick professional building (with black stucco top) in suburban downtown Marlborough, LOST SHOE BREWING & ROASTING COMPANY came to fruition springtime 2019. Besides slingin' delectable homemade suds, Lost Shoe is also a well-known local coffee roastery.
Lost Shoe's wood-emblazoned emblem sits atop the front door where the cement-floored patio with four glass-rocked firepits is situated. Taking the place of a 4,600 square foot nightclub, this olden wood furnished taproom features a railroad tie-fronted aluminum top serving station, 17-plus tap handles and multiple glass-encased brew tanks. The noirish black ceiling contains crowned Edison lights and exposed pipes. And a black-leathered lounge area adds casual upscale splendor.
On my June '21 pre-dinner visit, my wife and I try grab an outdoor table to enjoy three wonderful hybridized varietals plus one nitro stout, one German and two Belgian ales. In the two years Lost Shoes has been operating, it has crafted at least forty nifty one-offs.
It seemed every Marlborough-Framingham brewpub visited had a kickass li'l kolsch. Lost Shoe's second anniversary Kolsch retained crisply crystalline clarity as its orange-oiled lemon zesting picked up herbal hop astringency, mineral grained earthiness and cracked wheat neutrality.
Next up, dryer-than-usual witbier, Whit's Way, let sour lemon rot pervade its orange-peeled coriander expectancy and mild chamomile-lemongrass snips.
Light molasses creaming draped brown-sugared dried fruiting for sassy dubbel, Size 6, leaving plum-prune-raisin scrum and cocoa-pecan-butternut daubs upon the dewy earthy bottom.
Bright orange-peeled grapefruit tanginess and juicy pineapple zest stayed atop the piney herbal resin of Crossroads of New England: Nugget & Motueka.
For a sweet cocktail derivative, orange-glowed cream ale, Lakeside Avenue Orange Creamsicle, combined cara cara orange zesting with milk-sugared Madagascar vanilla bean richness. Its pulpy orange concentrate juiciness outweighs the sugared vanilla aspect, slowly integrating nearly cloy perfume-candied pineapple, peach, tangerine, cherry and watermelon swipes.
Creamily milk-sugared cold-brewed coffee tones settled softly atop nitrogenated New Pair Of Brews: Vamp -Coffee, a Madagascar vanilla-beaned mocha stout with coconut-hazelnut hints that stays airy and light on the tongue.
Milk-sugared coffee creaming picked up toasted coconut and Madagascar vanilla sweetness for New Pair Of Brews: Vamp -Dark Roast, another ethereal nitro-injected coffee stout.