SARATOGA SPRINGS, NEW YORK
Leaving his Sussex County home in Jersey to start successful Fort Edward-based Oliva Winery northeast of horse racing capitol, Saratoga Springs, entrepreneurial spirits venture, Tony Oliva, decided to brew professionally soon after. After moving his nine year-old winery to Saratoga's outskirts with wife, Debreen, and son, Anthony, in tow, he hooked up with Olde Saratoga brewer, Yuri, and began crafting some of the most interesting brews in the area under the equine moniker, RACING CITY BREWING COMPANY.
Utilizing a fresh well water base, Oliva's crew offer free-spirited, oft-times hybridized, originals that usually go one step beyond stylish conformity with uncommon herbal-spiced eccentricities.
Open for business since the night before St. Patrick's Day, 2018, Racing City's based in a freestanding 20,000 square foot grey-bricked warehouse. A sportsbar-related microbrewery with excellent light pub fare to go alongside a baker's dozen tapped selections, its warm and friendly interior features a 10-stooled, wood-topped, corrugated sheet metal-sided serving station (with 3 TV's and handsome beer menu) fronted by five community tables, several high-top bar tables and a mid-spaced sofa lounge atop an apoxy concrete-polished floor.
A beautiful 3D fiberglass horse racing mural signed by famed rider Angel Cordero (and previously hung at Saratoga's old city center) graces the front wall.
When Oliva initially opened the joint, the only beer available was light pale ale, Break-In Maiden, a favorite amongst local dart and cornhole leaguers. By my early December 2018 noontime visit, there were fourteen diverse brews readied for draught.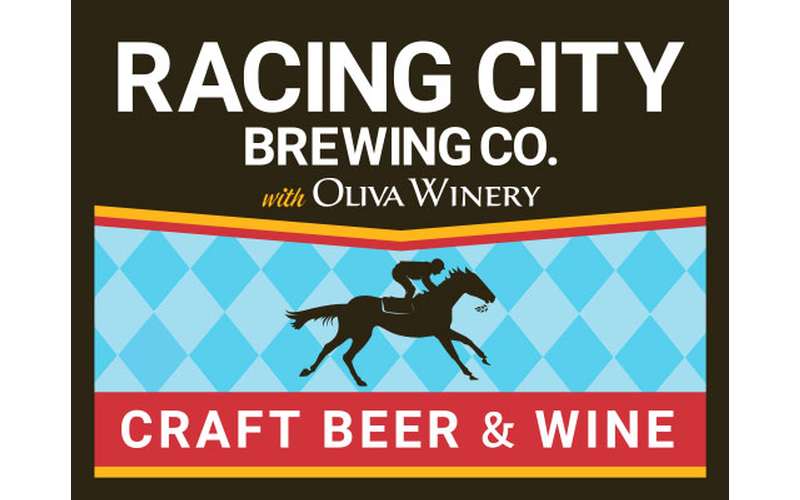 While my wife nibbled on cheesy pretzels, I consumed all but Backyard Harvest, an autumnal Cascade-Centennial-hopped English-styled IPA.
A popular summertime easygoer given year-round status, Lemon Hop Kid, an adventurous lemon ginger wheat ale, let its lemon-peeled ginger juice soak up dry cologne-spiced lemongrass, basil, fern and lime sentiments.
Similarly off-the-beaten track, mint-leafed Colt Classic Dark Cream Ale (the base beer for the bourbon-aged Kentucky Classic) brought unexpected wood-toned Chinook-Saaz hop rusticity to the maize-dried Mint Julep furlough, leaving latent chocolatey cola nuttiness upon its busy mix.
Popular centrist libation, Fishin Lager, stayed crisply clean as its musty maize-flaked earthen grains gained rotted citrus notions and distant herbal musk.
Finely hybridized autumnal moderation, Punkinhead Pumpkin Lager (with its Fishin Lager base) brought perfumed-hopped wood lacquering to squash-dried pumpkin spicing.
Sessionable pale ale, Turning Point, kept the hop bittering light and caramel malt sweetness subtle while streamlined apple, peach, orange and grapefruit tanginess may've provoked far-off banana liqueur illusions.
Equally sessionable Top Choice Hopped Lager, a maize-flaked cream ale blend, allowed buttery honey-dried grain malts to pick up mild floral-spiced tropical fruiting.
Reliably abstruse LSH Saison boasted 'natural herbs' as primary lemongrass, sumac and hibiscus adjuncts received floral lemon niceties as well as birch-barked fern, lilac and rosewood reminders.
Rounded fruitiness stimulated wholly delectable JustifIPA, a juicy India Pale Ale submitting perfume-hopped peach, clementine, tangerine and pineapple tanginess to briskly coniferous pining.
Pureed blood orange desiccation saddled King 7 IPA, a tart dry body with constrained orange peel, tangerine, mandarin orange and clementine sweetness.
A winning collaboration with local brew friends, Taylor & Sons and Northway, vibrant amber-browned Big Red Double IPA (no doubt inspired by Secretariat) regaled floral-bound orange, pineapple, tangerine, peach and clementine tanginess as well as subtle apple-pear fruiting to creamily cookie-doughed caramelized rye malting (and creamy vanilla snips).
Silkily smooth English-styled Oatmeal Stout, Dark Horse, allowed oats-sugared black chocolate syruping to ride above earthen dewiness, charred hops and subdued nuttiness.
Nutty coffee tones reminiscent of Guinness Stout silkily pervaded Black Beauty Nitro Black Lager, a dark-roasted Irish stout with casual espresso, cappuccino and Bakers chocolate asides.
Impressive black-lagered Short Stack with Maple and Hazelnut let elegant chocolate-chipped bourbon vanilla sweetness lift its Kahlua-creamed pancake battering to decadent dessert heights. It proved to be an excellent Sunday afternoon sendoff.
As a certified farm brewery (utilizing local grains and hops), Racing City is also licensed to serve distilled New York spirits for refreshingly brisk cocktails. They'll take on distribution in January '19.
racingcitybrewing.com