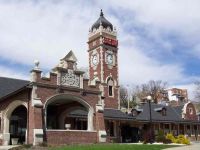 WESTERN PENNSYLVANIA
In the bustling small metropolis of Greensburg, 40 miles East of Pittsburgh in Laurel Highlands section, RED STAR BREWERY had offered excellent Americana fare (lobster, crab cakes, fire grilled lamb lollipops, and butcher's cut steak on the high end) plus quality brews since October '98. But by 2010, it closed down.
Formerly located at the train station in a stately red brick Victorian building with clock tower and Cathedral spires, its small front porch conveniently led into brew tank-addled hallway then central bar with glass-enclosed copper kettles and ample TV's. Wooden furnishings adorn surrounding dining area and an upstairs loft bedecks the left side.
April '06, brewer Jeff Guidos and I sampled his lauded suds at high noon, beginning with phenol raw-grained lime-soured pepper-hopped oats-maized Redstar Golden Light (strictly for proletariat), bitter hop-grained fig-dried Locomotive Breath Steam Beer, and mild hop-embittered red-fruited sedation Canvasback American Pale Ale (a nitro-injected smoothie with creamy Guinness head).
More intriguing were heartland-grained peat-framed honey-spiced rye-tinged 4 Grain Ale, oats-honeyed, orange-apricot soured, kiwi-mango-pineapple-tinged Mai-Effin Maibock, and fermented tea-like, barley-hopped, dry-bodied Extra Special Bitter.
Best bets for headier thirsts were darker brews such as caffeinated coffee-burnt, cocoa bean-soured Coffee Porter and silken nitro-injected Milk Stout (with its roasted coffee-mocha surge, coarse nuttiness, and creamy milk chocolate froth).