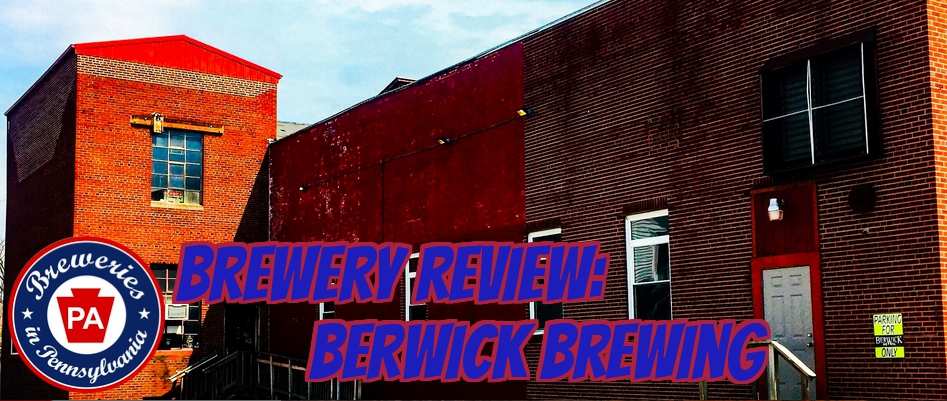 BERWICK, PENNSYLVANIA
Located on the northwesterly side of the Poconos uphill from the Shenandoah River, BERWICK BREWERY (formerly One Guy Brewing) takes up nearly half the space of an old red brick-warehoused bakery in a sleepy light industrial village. An hour down Route 80 West off exit 256, at the Poconos northernmost range uphill from the windy Susquehanna River, the sleepy industrial village of Berwick maintains a blue collar Industrial setting.
Bordering a used car dealership, its main attraction is the large wooden pavilion Biergarden overlooking the river and idle railroad line (hosting live entertainment on weekends). Inside, a small tasting room with right side bar served brewer Kyle Kalanick's beer recipes and local Spyglass Ridge Winery's peach, pear, blueberry, and Reisling wines. Brew tanks in a staging area behind the bar stored four suitable suds and one fantastic IPA.
I initially visited this dank cafeteria-styled watering hole on the Fourth of July, 2010, settling in at the large wooden pavilion behind the small tasting rooms. Brewer Kyle Kalanick's favorable beer recipes went well with delicious homemade pizzas and local Spyglass Ridge wines sufficed. Enjoyed creamy, tropical-juiced, grapefruit-peeled Atomic Punk IPA, orange-bound, banana-cloved Front Street Wheat and rye-breaded, pumpernickel-loafed Hondo Keller over resinous citric-fizzed Arden Amber.
Sitting in Berwick's tranquil Biergarten on the Fourth of July, 2011, I enjoyed a few delicious homemade pizzas with my wife, youngest son, Chris, and Long Island cousins while imbibing each sample (also available on tap at several Philadelphia area bars). Doughy caramel-malted wheat-honeyed citric-dried hop-softened Berwick Lager and citric-dried hop-resinous rye-molasses-finishing Arden Amber Ale sufficed. Better were two German-styled offerings: rye-breaded pumpernickel-loafed fungi-earthen floral-accented Hondo Keller Bier and wispy fizz-hopped orange-sliced cider-splashed banana-clove-softened hefeweizen, Front Street Wheat. Highly recommended Atomic Punk IPA perfectly countered creamy caramel malting and surging peach-pear-pineapple tang with piney alcohol-burnt grapefruit-peeled juniper bittering.
Returning to Berwick on a misty springtime mid-afternoon April '11, my wife settled into lemon-spiced, honey-creamed, orange-candied mainstay Berwick Lager while I delved into three moderate dark beers. Due to nightshift construction, the brewery's recently been opening at 6:30 AM.
A few stragglers are finishing up as we imbibed three dark ales at one of the dozen elongated orange tables. Dark roasted malts consumed coffee-stained, cocoa-dried, oats-charred Grumpy Bill's Porter, milk chocolate-y, coffee-burnt, Kahlua-tinged Barleytown Irish Dry Stout, and coffee-oiled, cherry-soured, mocha-chalked Foxy Stout. All together, another nice go-round at this discreet little dive.