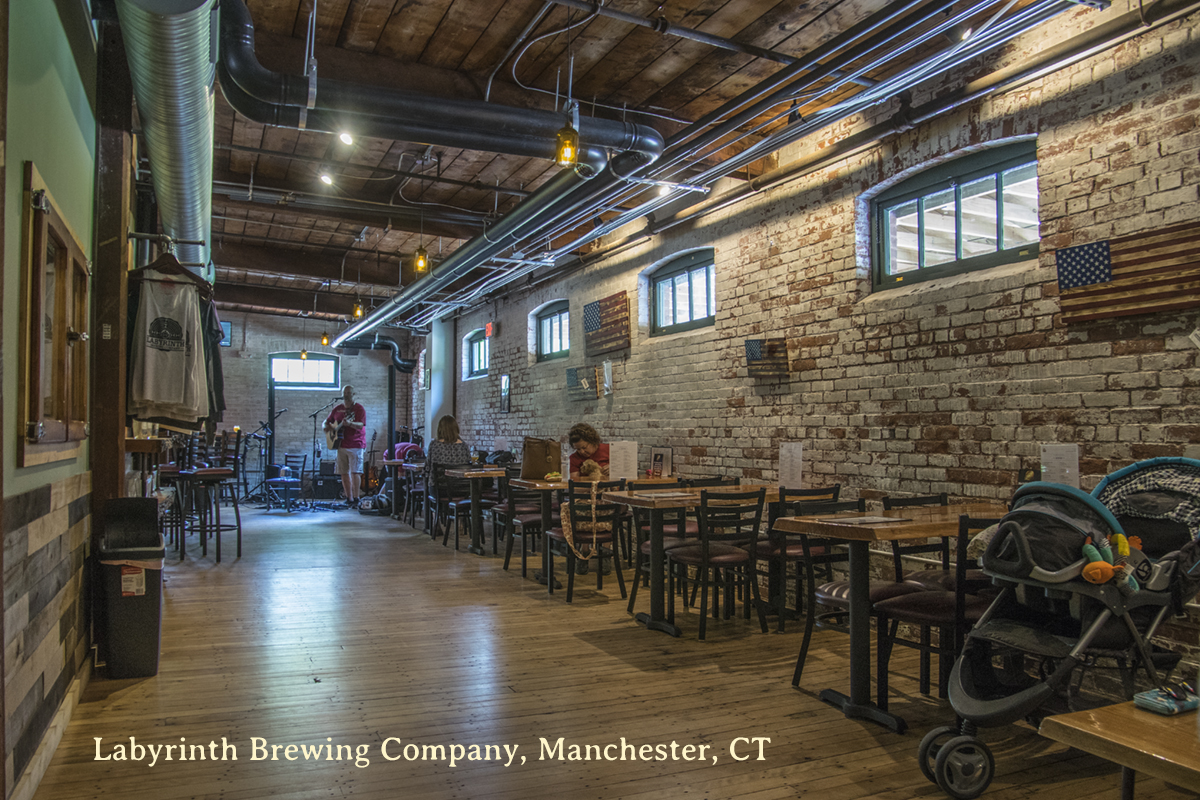 MANCHESTER, CONNECTICUT
Three 'beer wizards' control the tanks at Manchester, Connecticut's LABYRINTH BREWING COMPANY, a rustically retro warehoused brewpub opened autumn 2018.
The natural elegance of the hard wood floor, the antique charm of the exposed brick walls and the post-Colonial design of the factory-like wood ceiling (with exposed pipes) provide a casual warmth deepened by the lounge-y back cornered gas fireplace section.
A large wood slab-lacquered L-shaped bar spreads across the entranceway seating and the main space – where bottled Edison bulbs wind around a wagon wheeled overhead panel in glorious olden pub fashion.
I conversed with Adam De Laura, one of the entrepreneurial brewers at Labyrinth, mid-September '20, while Steely Dan played in the background, quaffing nearly all the available brews.
Easygoing lemony orange-spiced Athena's Wit allowed delicate floral sweetness to seize upon coriander-spiced chamomile herbage above its white wheat base.
Mellow dried fruited nuttiness anchored Mr. Dunkel, a dewy chocolate-malted Munich-styled dark ale with fading fig-dried pecan finish.
Fulsome Red Ale, Electrum Tears, placated chestnut-shelled pecan tones, tart red-orange fruiting and crisp tobacco roasting with leafy hop foliage.
Piney citric East Coast-styled Pan's IPA brought floral-perfumed grapefruit, orange and lemon zesting to its moderate wood-lacquered hop bittering.
Flagship New England India Pale Ale, Turbo Love Juice, let lemony pineapple, orange and mango tropicalia inform its spritzy tingle as hop-oiled bittering contrasted crystal malt sugaring.
Silken NEIPA, Hesperia, let its mildly embittered grapefruit peel frontage gain sour lactose milking  and wispy mango snips over acidulated pale malting.
Another NEIPA, hazily yellow-marbled Champion Of The Sun, brightened the tongue with spryly embittered pineapple-juiced grapefruit tanginess and salted mango-guava serenity, gaining yogurt-milked lactic acidity at the lightly spiced tropical fruit finish.
Raspy orange-peeled tangerine tartness consumed Siren's Song Orange Tangerine, a superb fruited sour ale with lemon-limed salinity atop its delicate white wheat spine - recalling a spritzy Orangina soft drink.