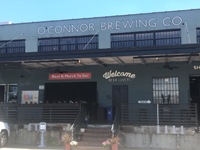 NORFOLK, VIRGINIA
Just two miles east of Smartmouth Brewing on the other side of the railroad tracks in a tan industrial building lies O'CONNOR BREWING COMPANY. A glass-inlaid brown tree insignia welcomes patrons to the raw cement-floored warehouse space where entrepreneurial brewer Kevin O'Connor opened this increasingly popular Norfolk microbrewery July '13.
Beforehand, the crafty zymurgist worked at Viriginia's well regarded St. George Brewery. Gaining experience, he soon set up a basic garage operation and began brewing under his own name (receiving plaudits for O'Connor Red Nun Red Ale).
A few days after opening in its current space I got to visit and try a truly terrific tap-only Irish Stout while purchasing bottles of El Guapo Agave IPA, Great Dismal Black IPA and Norfolk Canyon Pale Ale (all listed in the Beer Index under O'Connor).
Atthe entrance, two guys are tossing back a few on the front deck. Inside, a few community tables sidle silver brew tanks and bottling equipment. A few batenders serve the late afternoon crowd from the right side serving area. Extra glass-encased brew tanks hold beer being readied for bottling or kegging.
Today's worthiest brew may've been O'Connor IDry Irish Stout, an illustrious sedation layering molasses-sapped coffee, vanilla, cocoa and walnut pleasantries beneath creamy dark/ brown chocolate sugaring.