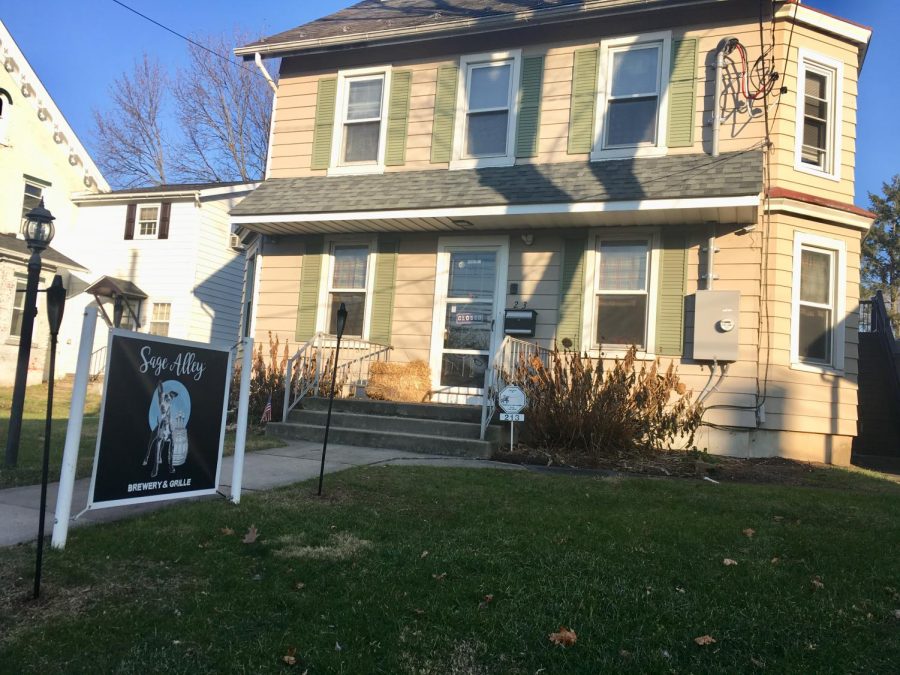 COOPERSBURG, PENNSYLVANIA
Just seven miles Southeast of Allentown in the tiny town of Coopersburg, SAGE ALLEY BREWERY & GRILLE opened during October '18 and expanded to include the separate Corner Tap Room a few doors down a year hence. Inspired by the small town charm of Germany's historic breweries, Sage Alley delivers a well rounded selection of mostly traditional beer styles.
A cozy English-styled pub residing in a restored white-walled Victorian house with low ceiling and 14-seat central bar, the lacquer wood-floored brewery and grille featured a large tile-floored back patio with all-weather furniture and heated enclosure. A loungy alcove sits across the red brick hearth just behind the bar and brew tanks were located in the rear.
The blue stucco corner pub refined Sage Alley's overall quaint elegance. Its comfortable front room offered a ten-draught shiplap wooded serving station with cafeteria tables, a blackboard beer list and ten draught handles. But it's the private backroom that really  captivates. A carpeted living room with plush carpeting, upholstered furnishing, a right side hearth and large-screen TV, my wife and I settled into the round table before getting dinner at the grille.
At the cornered blue stucco pub, I grabbed these five offerings while watching Army-Navy football game in the carpeted lounge during December '19.
Muskily grained Crack Of Dawn Light Lager gained fizzy lemon briskness above placid corn-dried pale malting and acrid hop herbage.
Vivacious amber-cleared Wise Crack West Coast IPA draped floral citrus sweetness above grassy hop astringency, light peppered herbage and spicy pale malting as its lemony orange-grapefruit tanginess strengthens.
Dry-hopped yellow-hazed New England IPA, Freyburg, brought sunny Mosaic-hopped orange and grapefruit juicing plus tingly lemon lime souring to lactose-infused oats.
Brisk lemony grapefruit juicing boosted perfumed honeysuckle sweetness for lactose-aided Making Beer Great Again Imperial IPA, leaving cantaloupe, peach and pineapple illusions above its mild oats-flaked base.
Creamily soft-toned Cattle Drive Milk Stout let cocoa-dried black malt roastedness settle beside dark chocolate chalking.
Afterwards, settled into the yellow domicile-like gastropub two doors down to soak up six more sassy suds.
Light grain musk saddled Sage Alley Pilsner, letting grassy hay-dried earthiness sink into perfume-hopped pilsner malting.
Stylishly dryer Coopers Citrus Wit merged lemony banana-clove tartness with chamomile, coriander and salted popcorn illusions above bready oats-flaked corn malts.
Champagned dry hops and desiccated orange souring suited Brut Mimosa IPA, countering grassy astringency with sugary malt spicing.
There was also an unexpected champagne lilt to enigmatic Chardonnay-wined Belgian tripel, Monk Juice, a weirdly designed elixir with murky white grape esters, depleted banana-clove tartness and cidery sharpness.
Aged on vanilla, lactic Coffee Vanilla Pumpkin Ale let milked coffee, dry cocoa and roasted tobacco outdo its mild pumpkin spicing (and bittersweet vanilla bid).
Black coffee bittering overloaded acrid Irish-styled dark ale Blackout Imperial Stout, leaving sea-salted toffee, dark cocoa and Bakers chocolate illusions upon the back end.