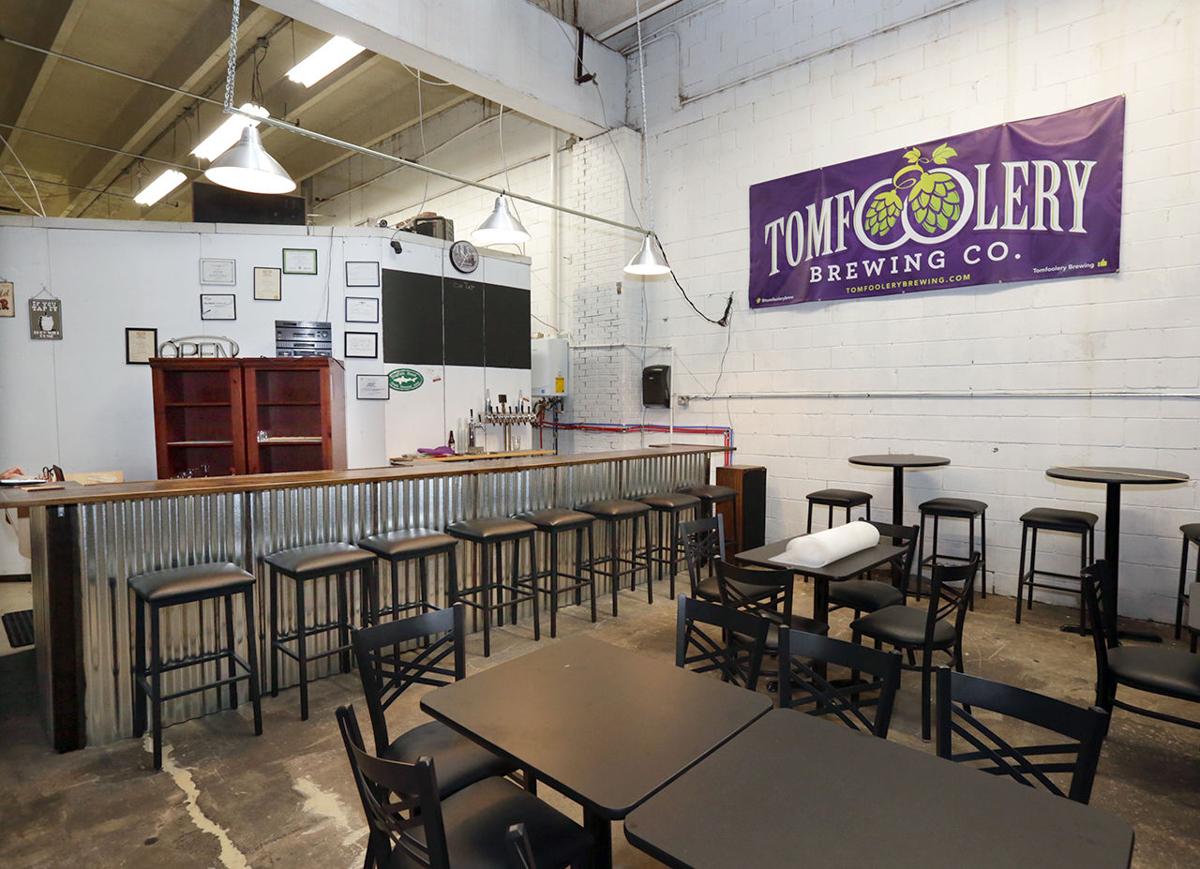 HAMMONTON, NEW JERSEY
A half-mile from Vinyl Brewing at an old red brick warehouse down the block from residential housing in a bleak industrial setting, Hammonton's TOMFOOLERY BREWING COMPANY came to fruition, December 2015.
The former bottling home of defunct Eastern Brewing Company, this rustic cement-floored high-ceilinged warehouse pub features a front-walled purple Tomfoolery banner, large backroom 7-barrel brew system and a separate right side room still being developed. The 12-stool U-shaped silver top bar holds sixteen-plus draught taps and six metal-leather tables furnish the spacious interior. A fridge carries canned product.
Traditionalist brewers Shawn Grigus (a former Egg Harbor brewing supplier) and his electrical engineering 'alewife,' Gayle D'Abate, have won many accolades for their well-defined standard fare.
I spent an hour-and-a-half happily perusing Tomfoolery's cheekily self-defined 'serious beers' in late April '19.
Dry pilsner-malted oats lied beside herbal Saaz hops, spritzy citric licks and mild barnyard acridity for light-bodied Not So Old Bohemian Pilsner.
Sour-candied lemon drops indulged dryly pale-malted moderation, A.C Lager, a politely straightforward, highly sessionable flagship.
Seltzer-like lemon briskness and tangy orange spurts remained subtle above pleasant perfume-spiced herbal whims for cagey Kanoe Kolsch.
Mustily lemon-soured banana and clove tartness overrode the cracked wheat dryness of Orbit The Sun Hefeweizen, gaining sweet vanilla undertones.
A gentle pilsner malt base softened expressive Crack Concrete Belgian Tripel, leaving tingly lemon-sugared banana bubblegum sweetness and pithy grapefruit zest to contrast herbal fungi mustiness.
Out of the three IPA's tried, each had its own simple distinctions. Easygoing New England IPA, Eastie Boys, placed tangy lemon-licked mandarin orange and navel orange juicing above light dry wood tones.
Brisk Citra-Mosaic-hopped Sun Grown IPA brought blood orange, grapefruit rind and lemon zest passion to astringent hop resin.
Sorta blending the two, Take Flight Double IPA left floral citrus spicing upon mellow piney hop bittering.
Dewy dried fruiting subsumed Bob's Bottle House Bock, keeping its sweet caramel malting subtle.
Nutty espresso dryness countered milk-sugared chocolate malting for  smoothly creamed Feck Off! Irish Stout.
Peat-smoked brown chocolate fronted S.M. Alder Imperial Smoked Porter, a cocoa-milked dark ale with sedate coffee roast.
Though it's only limited edition, Tomfoolery's second version of Wee Bit O' Milis (2019) utilized honey-glazed Irish potato candies to sweeten doughy sugar cookie, vanilla bean, cinnamon and coconut subtleties in a most mellow way.