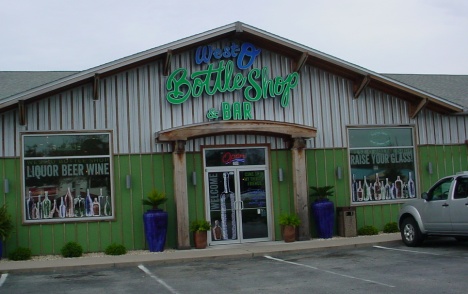 OCEAN BEACH, MARYLAND
A few miles off the Ocean City strip on Ocean Gateway lies the 7,000 square-foot WEST O BOTTLE SHOP & BAR, a fabulous craft beer, fine wine and spirits outlet with creatively designed interior wood trellises, central bar with several draught taps and left side lounge.
Selling the finest local bottled and canned beers while offering a few select draughts at the bar, West O has become a staple for local consumers and curious travelers.
On my June '16 stopover, there were five previously untried Maryland brews on tap (reviewed in full at Beer Index). Burley Oak High Whhheat Hibiscus brought floral hibiscus and lavender adjuncts to buttery Chardonnay tones and subtle citric notions while Union Country Boy Citric Wit dried out its lemony banana-clove-coriander sweetness with sharp hop astringency. Heavy Seas/ Troegs Hoppelbock, a doppelbock collaboration, doused sweet tropical fruiting with floral-spiced hops and caramel malts.
Onward, Rubber Soul High Wheel IPA had a soft-toned approachability dangling floral pineapple-peach-orange-mango fruiting above its soft wheat spine. RAR Habanero Nectar layered peppery habanero heat inside subtle IPA tropicalia.
www.west-o.net