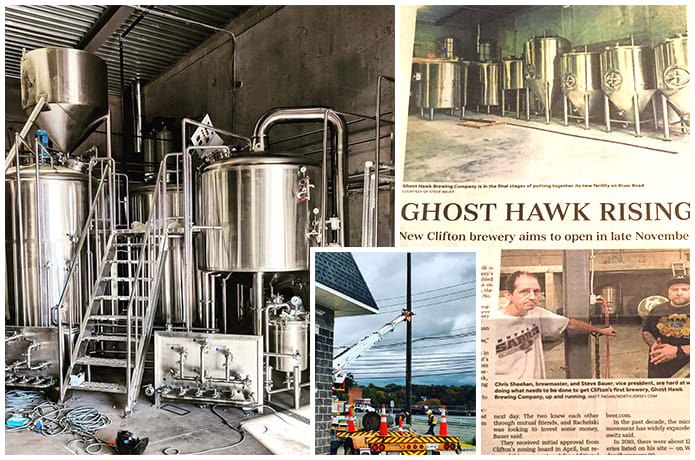 CLIFTON, NEW JERSEY
Right across the street from famous hot dog joint, Rutt's Hut, Clifton's GHOST HAWK BREWING COMPANY came into existence April 20, 2019. Inside an unfinished overhead-doored warehouse connected to Silk City Distillery, this spacious one-room pub features high ceilings, cement floors, a brew crew loft and wood lacquered serving station. Five community tables and six cocktail lounge tables sit across from the left side 20-stooled bar with reclaimed wood-stacked draught handles.
Veteran brewmaster, Chris Sheehan, mans the 15 BBL tanks for Passaic County's first ever craft brewery. The decorated UC-Davis graduate got the nod as head brewer after serving at Defiant, JJ Bitting, Gun Hill and Chelsea breweries. His endlessly varied recipes continue to thrive and he'll no doubt brew a few barrel aged elixirs given the fact a distillery's next door.
Owned by Clifton natives Tom Rachelski, a financier army vet, and Steve Bauer, a graphic designing streetwear maven who joins me in conversation this glorious day, Ghost Hawk strives to create high quality beers that attract wide-ranging palates.
On this sunny May '19 Saturday stopover, my wife and I enjoy all seven well-balanced, efficiently designed brews on tap while consuming Rutt's Hut Triple Decker turkey sandwich, fried cod and a 'ripper.'
Worthy 'Continental-styled' staple, Ghost Hawk Lager, a dry Dortmunder-like medium body with crusty sourdough malts, perfumed maize husk and dewy herbal licks received musky sulfate-watered Noble hop pungency for a stylishly bold thirst quencher.
Briskly straight-ahead moderation, Daedalion Wheat, had an oats-dried pilsner malt mouthfeel and spritzy lemony grapefruit snap, picking up grassy hop astringency and mild wood tones at the rustic grained finish.
Tart cherry souring enveloped easygoing fruited hybrid, Cherry Daedalion Wheat, where rose-wafted lemon zest lightly embittered cherry rhubarb piquancy as well as passive grapefruit, passionfruit, kiwi and mango snips above its billowy white wheat base.
Fennel-seeded caraway herbage seeped into dry rye spicing for mildly pepper-breaded medium body, Along For The Rye.
Yellow grapefruit zest brightened mild New England-styled IPA, Apex Predator, letting wispy peach, orange and tangerine tanginess settle below oncoming piney hop bittering.
Decisive 'Triple,' Trouble IPA brought spicy red-orange fruiting to candied toffee sweetness, relegating its herbal perfumed black tea bittering while nascent honeydew, melon, pineapple, pear and apple illusions find space.
Today's one dark ale truly sufficed as a delicious post-lunch dessert. Mocha-powered Ravendark Stout regaled grain-roasted dark chocolate, cocoa nibs and cold-brewed coffee overtones given spicy anise sweetness to contrast its charred hop remnant.
www.ghosthawkbrewing.com