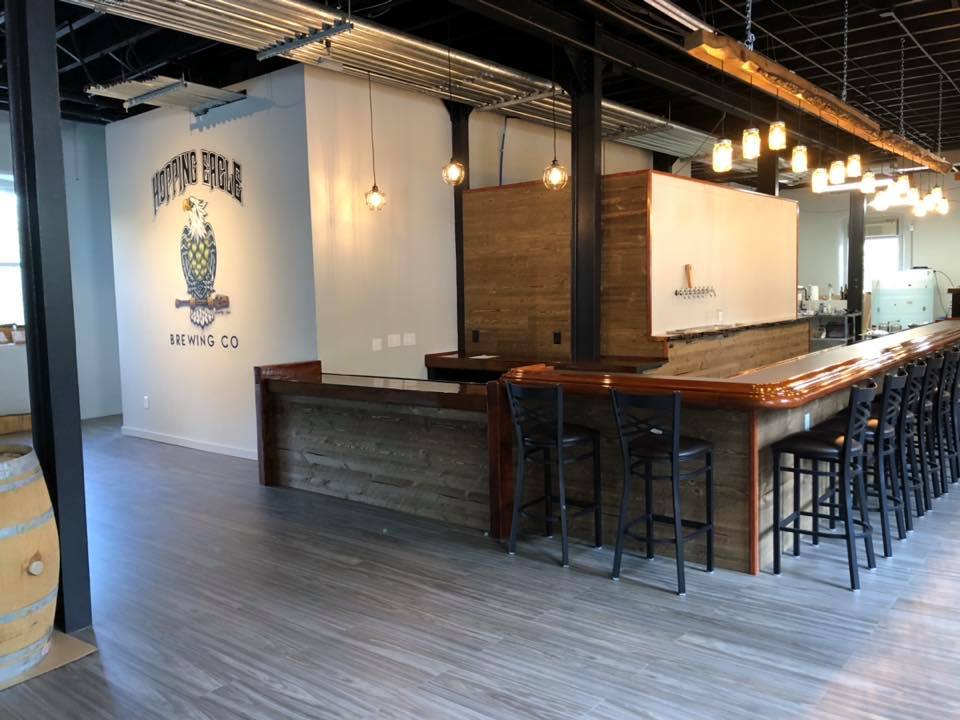 HAWLEY, PENNSYLVANIA
Thirty miles east of Scranton in the waterfalls-bound small town of Hawley, HOPPING EAGLE BREWING CO. opened for business August 29, 2019 inside abundant gray-stoned, castle-like Hawley Silk Mill.
Utilizing a rustic nano system, Hopping Eagle featured nine taps and one nitro draught during my one-hour January '20 stopover.  A pristine warehouse space with mahogany-fronted L-shaped central bar, slat wood floor, high ceilings, exposed pipes and mason jarred Edison lights, its wood paneled back deck adds further seating to the interior's six small tables.
Crafting rangy traditional fare with well-balanced appeal, Hopping Eagle's friendly suds never go too far-out to please distinguished contemporary imbibers as well as curious mainstream cats.
I tried all nine offerings while speaking to co-brewer Ronnie Passaro just before dinnertime.
Cleanly dry mineral-grained Bald Eagle Blonde Ale (the base beer for fruit-derived offshoots Raspberry, Blood Orange, Apricot and Pink Guava) let corny maize grist ingrain its perfume-hopped lemon spritz and herbal vegetal spell in a pleasing moderate-bodied manner.
Freshly spruce-tipped grapefruit and orange juicing pervaded piney wood lacquer and white peppered herbage for Beyond The Pines, a decisive offbeat IPA collaboration with local brewing buddies Log Tavern.
Mildly amber-hazed, lactic-derived, yogurt-soured Peregrine NEIPA allowed wood lacquered gooseberry, guava and white grape tartness seize upon moderately bitter grapefruit-orange rind zesting above sugary pale malting.
Succulent brown-sugared dried fruiting sweetened above musky fungi mustiness for Lord FarQUAD, as caramelized raisin, prune and plum rummaged thru well-hidden 9.8% ABV booziness.
Vibrantly upbeat charmer, Uncle Phil's Double IPA plied candied orange, tart pineapple and salted mango to dank pine resin, leaving tannic hop astringency on its fruitful frolic.
Mild jalapeno burn seeps into woody Amarillo hop bittering above dry pale malts for Hoppin' Jalapeno Pale Ale, leaving black and bell peppering on latent zesty lemon misting.
Sedately milk chocolatey Tawny Owl Brown Ale brought hop-charred assertion to caramel-burnt hazelnut, pecan and walnut illusions.
Peanut-buttered blackberry jam contrasted charred hop bittering for Mini-Mash Series: PB&J Time!, a nifty vegemite sandwich-inspired Imperial Stout with tertiary black grape, black cherry and snips daubing its salted peanut roast.
Easygoing Cocoa Raven Porter with Raspberries – on nitro loaded black patent-malted dark chocolate mustiness atop tart raspberry puree, leaving wispy blackberry, boysenberry and black grape snips on the lightly embittered cocoa nibs finish.
On quick April '22 stopover, discovered lovely Nitro Coffee + Cream: Damiani. Its milk coffee-sugared whipped creaming gained caramel latte, cappuccino and iced caramel macchiato sweetness.
hoppingeaglebrewing.com