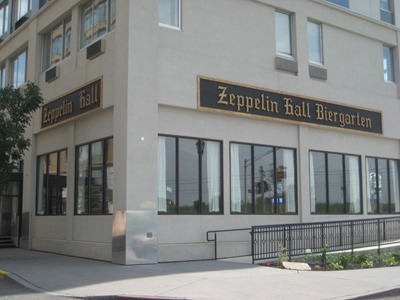 JERSEY CITY'S ZEPPELIN HALL STANDS TALL
Fabulousness is nothing new to Zeppelin Hall proprietor, John Argento. The former owner of New York City's premier '80s nightclub, Danceteria, now runs the Garden State's largest German biergarten. Including its three-room interior, the 26,000 square foot public house truly does dwarf any competition in both expanse and draught selection.
"Danceteria was more interested in being fabulous than rich," Argento says as we sit in his loft office. "We were always working on a budget and four weeks from bankruptcy. We were drawn into getting our name on Page 6 (of the Daily News) than buying Jersey Shore houses. You learn to be lean and mean and that's how I run Zeppelin Hall."
Taking its aerostat name from rigid airship inventor, Count Von Zeppelin, this luxuriously detailed ground floor space in Jersey City's newly developed Liberty View was a raw shell of a building when local developer Peter Mocco recruited his pal Argento to take charge. They had already turned Jersey City's Sand Bar into a successful restaurant lounge in the '90s – before Argento went to culinary school and got 'headhunted' to be General Manager of Queens-based Bohemian Hall.
Though Bohemian Hall offered good business, high income and low expenses, Argento claims the place looked like a 1970's basement with drab wood panel. However, he enjoyed its ethnic diversity and interesting mix of business professionals and young artists.
"A poorly managed Czech Society owned Bohemian Hall, New York's oldest biergarten," Argento explains. "But it was crowded seven days a week. Lunchtime would gather 800 people. Peter came over unexpectedly one Saturday afternoon. There was a line down the block. Realizing nightclubs only made money from 10 to 2 in the morning twice a week, I knew the biergarten concept was being underutilized. People of all shapes, sizes and color sharing a common economic level came to enjoy sausages and beer on a beautiful day. Nightclubs segregated their population to narrow bins."
Since Czech pilsners and lagers lack stylistic diversity, Argento wanted to open a Pan-European bar that took in Belgian beers, German wheats, British bitters and American micros as well. An astounding 144 taps were installed. He expected 400 people on a Thursday night soft opening in June '09, but instead got 1,200 during a rainstorm. Some complained the first few nights because getting a beer from the understaffed bartending crew was difficult. Thereafter, an expanded staff was hired to cater as many as 2,000 varied customers at any given time.
"People thought I was crazy opening a mammoth space in the middle of nowhere – Jersey City's ass end wasteland before revitalization. But it became a destination location," he concedes. "You can't survive as a local neighborhood bar here. But people will come to a big place with a wide beer selection because it's a Happening."
Unlimited free parking, path train access, and easy waterway transport afford Zeppelin Hall plenty of traffic. Upon entering, the Pub Room offers homey warmth with its stone fireplace (with overhead projection screen), multiple cafeteria-styled wood tables, and ample J-shape bar.
The middle room has a small stage area and a template of a German castle and Bavarian village sidling the open kitchen (serving pretzels, schnitzels, bratwurst, kielbasa). Filigreed iron doors lead to The Ratskeller, a 9-tabled 12-tap banquet spread with a beautiful nighttime view of Manhattan from the tall glass windows.
Then, there's the festive biergarten featuring a tile walking plaza, 48 outdoor taps, London plane trees, and German-styled gravel ground. Backing up to the rail line, this colossal 12,000 square foot courtyard proves no stone has been left unturned.
"At age 50, I knew I had to get out of Danceteria's trendy edge, beating my head against the wall appealing to only 5% of the people who went out nightly," he asserts. "I'd send a booking agent twice a week to Manchester, England to book popular British bands, bringing the Smiths over and becoming the first to play Bananarama, Sade and Soft Cell. Billy Idol debuted "White Wedding" there. After culinary school, I tried to do something that'd appeal to the other 95%."
During my inaugural November trip, hotshot beer mavens such as Hunterdon Distributors' Dan Masterson, Flying Dog owner Jim Caruso and Victory Brewery sales rep Steve Gates stop by to enjoy a pop. There are some post-collegiate types, several white-collar businessmen, a few lab technicians and two moms with three kids on hand.
"There's a German word, gemutlichkeit, which means a sense of well being or coziness amongst friends," Argento elucidates. "That's what we engender here. We encourage people to talk – a lost art amongst singles bars where people dress to the nines. It's very low pressure. I don't need any drama at this point of my life."
So check out the capacious beer hall with the weirdly rock and roll-styled name that's clearly connected to Jersey's Hindenberg disaster or dare to miss out on one of the most unique drinking experiences you'll ever encounter.