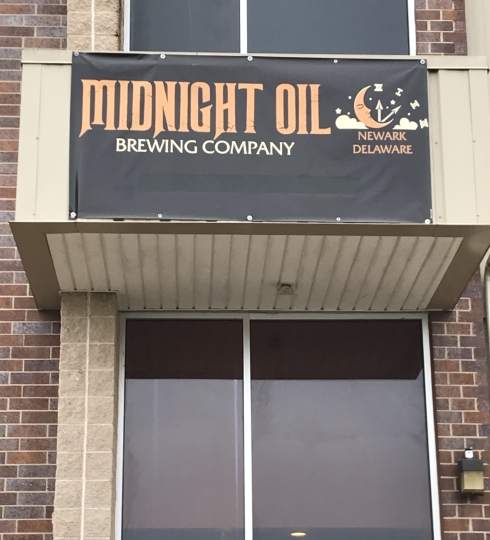 NEWARK, DELAWARE
In the new Industrial outskirts of Newark, Delaware, MIDNIGHT OIL BREWING COMPANY came to fruition at Pencader Business Park during February 2018. Its prominent black insignia hangs from the tan brick edifice that encompasses this huge 15,000 square-foot high-ceilinged brewing warehouse.
A 14-seat serving station features nine draught handles and a cool purplish blue chalked Midnight Oil painting at the bar's frontage. Ten surrounding tables and some window seating are also available plus the elegant left side lounge area has two couches and a TV.
I took a seat at the side of the bar to try four interestingly disparate brews during a half-hour July '19 afternoon stopover.
Basic, mild and approachable flagship brew, Neutrino Blonde Ale, brought spicy mandarin orange subtleties and a lemony spritz to dewy earthen moisture above its gentle white bread spine.
Juicier Serenity Mandarin (an orange offshoot which also includes peach, strawberry, mango and pineapple versions) let dainty mandarin orange tanginess pick up lemony grapefruit, tangerine and clementine snips above a sugared pale malt base with easygoing splendor.
Lactic raspberry pureeing soaked into vanilla-beaned blonde ale, Your Mom, leaving sour melon rind, tart watermelon and juicy pineapple illusions on the tail end of its bittersweet raspberry rhapsody.
Dark-roast coffee and black chocolate bittering consumed Reilly Irish Stout, an oats-charred full body with dewy earthen mossing and slight anise spicing that gains a nutty remnant.
There were five more beers on draught but I had limited time and will return within the year.
midnightbrewing.com