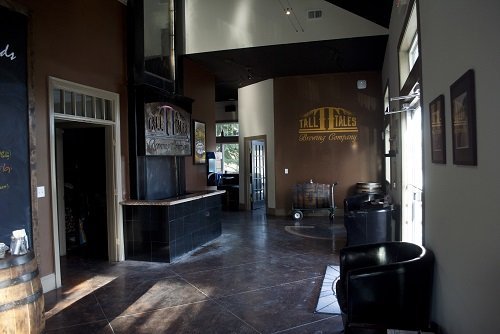 PARSONSBURG, MARYLAND
On my springtime 2013 Ocean City/ Salisbury brewpub tour, rural-bound treasure, TALL TALES BREWING COMPANY, was just getting going and got overlooked. But on my trip back from the Carolinas in July, a convivial two-hour family stopover proved completely worthwhile.
Situated in the rustic DelMarVa region of the Chesepeake Bay inlet at bucolic Parsonsburg, the picturesque tan lodge Tall Tales occupies complements the eclectic rural community abutting tiny trailer park homes next to tree-lined farmhouse manors. Open October '12, the Victorian-like gastropub features two impressive marble columns, virgin white window sills and eye-grabbing landscape on the outside.
As my family enters the fray, a prestigious floor-to-ceiling water feature fountain with brass-inlaid Tall Tales insignia welcomes us. To the right, pristine wood decor graces a Classical dining space (with 3 TV's) that fronts an exquisite couch-laden mahogany-furnished sitting room. Better still, an expansive tile-floored back deck with ten black metal tables and four patio tables offers a splendid outdoor dining and drinking experience as well.
On this July '13 Sunday afternoon, we drift into the left side five-stooled bar and settle at one of the six tables (closest to the side window with empty growlers representing locals Burley Oak, Evolution and 16 Mile on the sill above). The wooden bar's earth-toned slate foundation suits the sylvan atmosphere perfectly. A full bar and outdoor brick oven grill will soon grace the back deck while expansion for massive bottling is expected.
As we get served by house manager, Natalie, the Yankees and Orioles square off to play baseball on the right side TV. Glass-encased silver tanks hold six previously untried libations while I dig into a delicious hummus appetizer and Cheese-Meat platter (with Danish bleu-cheesed gouda, Monterey Jack cheddar and salami). My wife and kids share two of the excellent brick-oven pizzas.
Generally contrasting nearby Evolution's sharp hop head fare with more malt-forward selections, Tall Tales debuted in September '12 with Red Headed Step Child Irish Red, a marzen-like medium body that took third place at Salisbury's Good Beer Festival. Its crisp barley-roasted caramel malting underscored sugared coffee, dried cocoa, brown chocolate and raisin bread tones.
Light, refreshing, yellow-fruited Sun Beach Kolsch brought lemon-seeded yellow grapefruit and mandarin orange to soft-hopped crystal malting for a light-bodied pleasantry.
Sharp hop-forward Paul Bunyan Pale Ale gained citric-spiced prominence from tangy grapefruit and orange juicing. On the other hand, the more stylistically approachable Excalibar IPA relied on soft hop-spiced crystal malts to rein in the orange-peeled grapefruit rind bittering.
The bitterest libation, Bonnie & Clyde Double IPA, brought sharp pine-needled grapefruit peel briskness, hemp-oiled musk and smoked mocha malting to mild spruce-toned orange, peach, pear, pineapple and mango sweetness.
For dessert, subtle John Henry Dry Stout tethered softly creamed chocolate, coffee and espresso tones to wispy roasted hops, perfectly re-creating the mellow mocha Irish styling.
Tall Tales is a no-brainer for anyone looking for great food and beer while perusing the wide open terrain of coastal Maryland.
________________________________________________________________________
On a steamy July '20 Saturday afternoon, landed at Tall Tales once more after Outer Banx trip. My wife and I grabbed seats at the metal-chaired patio just beyond the covered deck (with wood-furnished secondary bar). The large outdoor area also featured a firepit and sandy-grounded back deck for cornhole.
First up, approachable moderation, 30 Days In The Holed Step Child Irish Red, a classic Vienna lager, let honey-roasted amber graining anchor spicy stone fruiting and crisp leafy hop astringency.
Aged on blackberry puree, enticing Berliner Weiss, Wildberry – Blackberry & Strawberry Sour, linked salted strawberry rhubarb and vinous white grape (plus ancillary peach, mandarin orange and rosé wine illusions) to tart blackberry piquancy for a sharply fruited summertime concoction.
Mouth-puckering lemon-dropped candied raspberry tartness rode above its sugared wheat base for Not Your Mother's Cheesecake, a classic raspberry lemon cheesecake knockoff with subtle vinous wining.
Tart strawberry pureed Getting Caught In The Rain Strawberry Coconut Colada Gose brought limey sea salting to vanilla-creamed Graham Cracker sweetness.
Dewy peat moss saturated fudgy oats-sugared chocolate sweetness for Candy & Kitchen – Double Fudge Chocolate Oatmeal Stout, a trusty dessert treat.
Rich hazelnut-sweetened Hawaiian coffee deluged She's A Nice Lei-dy, a heady Imperial Stout with black chocolate, cocoa nibs, fudged brownie and pale oats seduction.