BINGHAMTON, NEW YORK
Around the corner from Galaxy Brewing in a metal-welded Industrial building with steel-doored storefront, WATER STREET BREWING COMPANY began operations in 2011 – approximately one year before nearby Galaxy and Binghamton breweries opened. Homebrewing couple John and Michele Bleichert currently run a 7 barrel system spread between glass-encased bronze tanks and a few right side silver tanks.
An intimate bistro-like pub, Water Street's linoleum-floored wood tables are scattered along the front and left side with Edison lights lining the long wooden bar where two tap stations with eight draught handles each disperse the sassy suds. Fine homemade pub fare goes well with the rounded beer selections. I sojourned to Water Street July '19.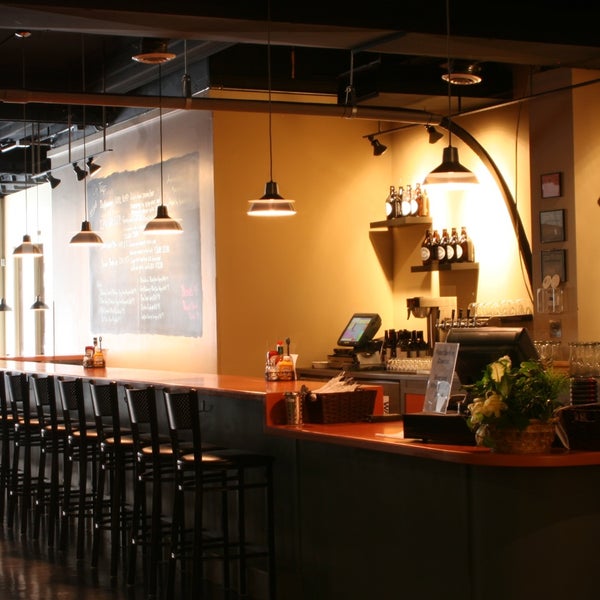 Receding banana-clove sweetness confronted lemon-rotted mandarin orange souring and herbal whims above sugary Graham Cracker wheat malts for generic-named moderation, Hefeweizen, a slightly more adventurous stylistic changeup.
Dry English mild ale, Lucky Corbie, brought raw-honeyed grassy hop acridity, horse-blanketed hay astringency and mild herbal perfuming to toasted caramel malting.
Stylishly bold India Pale Ale, Smash And Grab, let brisk Mosaic-hopped grapefruit, orange peel, mango and peach tanginess saturate its moderate grassy pine bittering above caramelized Vienna malts.
Sour gooseberry and white grape tannins plus mild grapefruit rind bittering bumrushed Triple Trouble NEIPA, a lactic juicy fruited medium body with subtle sugar-spiced lemony orange tang.
As for the dark ales, dry hop-charred walnut bittering lightly counters sweet hazelnut-macadamia-almond triage for Hellcat Brown Ale.
Roasted chocolate and caramelized nuttiness anchored Thousand Year Porter, receiving a dewy peat mustiness at the finish.
Mildly fudged chocolate milk stout, Slugworth's Revenge, gained vanilla, dried cocoa and brownie tones above molasses oats malting.
waterstreetbrewingco.com