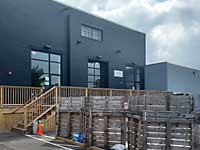 NORTH HAVEN, CONNECTICUT
Home of Quinnipiac University, North Haven's TWELVE PERCENT BEER PROJECT came to fruition February 2020. Inside a pristine beige-walled manufacturing warehouse, Twelve Percent does a great job of source brewing for new businesses as well as supplementing established brewers' canned and draught product thru quality distribution.
A palate-enclosed patio with plastic furnishings guides patrons to the entrance door. Inside, the cement-floored pub features a few four-seat formica tables, two community tables, a loungey couch area, pillowed banquet wall unit and two overhead doors.
The left side formica-topped bar offered ten seats and twenty white tiled draught lines. An enormous high ceilinged brewing operation occupies the rear glass-encased section.
A bunch of families with young children seize upon Twelve Percent on a cold Saturday at noon, March '22.
During initial stopover, quaffed Twelve Percent's proprietary Snappy! American Lager and Connecticut Witbier while purchasing fab brews from Abomination, Skygazer, Fat Orange Cat, Marlowe, Barclay and Timber Ales to go (all reviewed in Beer index).
The sky's the limit for this ample distribution center with on-site draughts for sale.