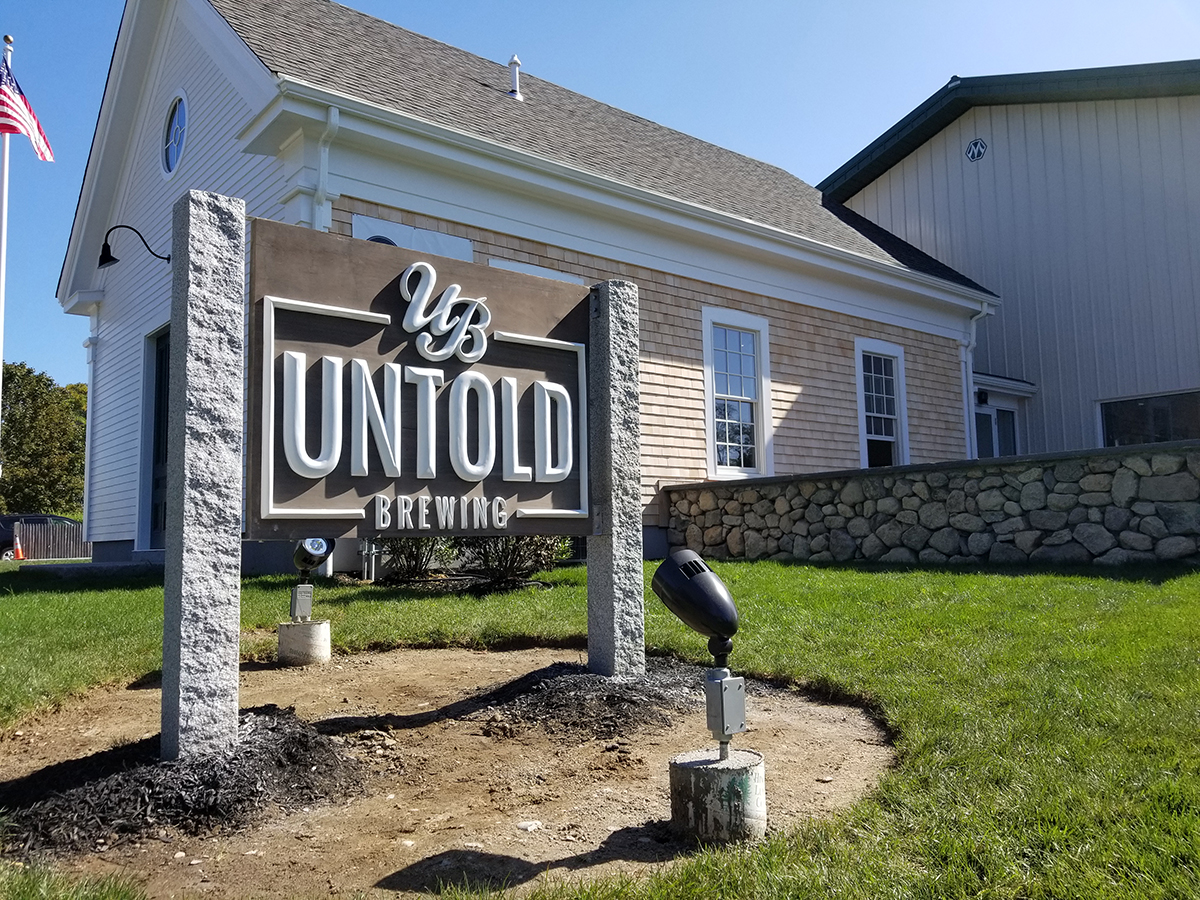 SCITUATE, MASSACHUSETTS
Inside a spacious tan aluminum mill in the Massachusetts seacoast town of Scituate, UNTOLD BREWING came to fruition October '17. Revamping a small schoolhouse, co-brewers Kyle Hansen, sister Kristin Greene, and close pal, Matt Elder now have plenty of room to operate as the cement-floored open space utilized already stores some massive brew tanks.
At 11 AM on a musky Sunday in April '18, I mingle with the staff at the varnished pale blue tasting table before any customers get there. Interestingly, the back classroom now serves as a pristine community-tabled beer parlor. And an attractive stone-bordered slate-topped patio adds more seating.
Currently, there are eleven tap handles serving five flagship brews as well as two more IPA's, a red ale, Scotch ale and porter.
The mildest ale available may be Untold's best. Brisk lemony orange tanginess regales Abigail Blonde, a citric perfume-spiced treasure yielding ancillary wood-toned grapefruit, peach and pineapple illusions above biscuity pale malts.
Valencia orange, mango and peach fruiting anchor Pale 143, a mild pale ale with dainty floral-pined citrus hops reaching a dry finish.
Stylishly mild East By Northwest IPA drapes floral orange-spiced sweetness atop subtle pine hop bittering and mineral-grained rye breading.
Muskier and dryer, Time Shall Unfold IPA gives its orange-peeled ruby red grapefruit tang a spritzy carbolic splash and musty wood respite.
Nut-charred caramel and chocolate malts inundated Rebecca Brown Ale, a semi-rich darkie with latent coffee roast bittering, sweet toffee tease and dewy earthen restraint.
These flagship offerings were rivaled by five non-regular brews.
Lemon-candied moderation, Untold Identity Crisis, a 'hazy IPA,' gathered juicy grapefruit and orange peel bittering and resinous pine to contrast sweet mango, pineapple and peach fruiting as well as sugar-candied malts.
Easygoing To The Limit, a mildly creamed Imperial IPA, had subtler grapefruit-orange bittering and softly spiced pineapple, peach and tangerine subtleties backed up by leafy wood-toned hops.
Pleasingly affable Irish Red united toasted caramel malting with snappy orange-apple fruiting and mild hop astringency.
Tenacious P Porter worked molasses-sugared milk chocolate into mild hop bittering and dry rye malts as well as oncoming praline-glazed almond and walnut sweetness.   
For dessert, excellent Mean Mother Maggie (aged on oak spirals) sufficed. Its peaty rye-dried Scotch malting gained a whiskey smidge to reinforce caramelized apple, apricot and peach tones.
www.untoldbrewing.com