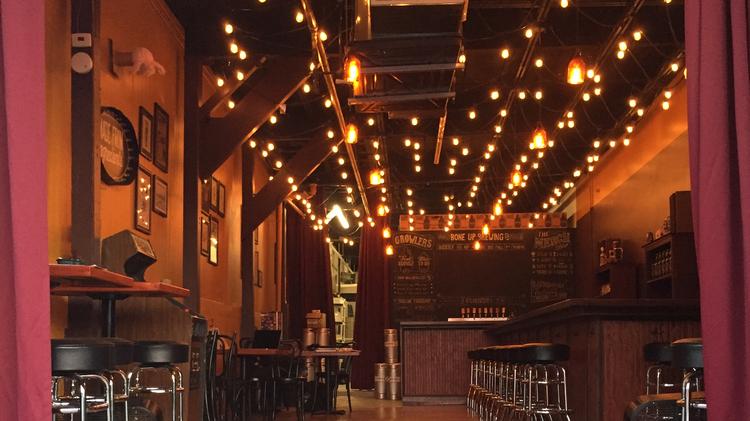 EVERETT, MASSACHUSETTS
Formerly Boston's smallest brewery, BONE UP BREWING now occupies a cozily polished overhead-doored red brick warehouse with black metal-fenced front patio. Inspired by old school Belgian farmhouse brewing while celebrating American styles, this husband-wife-owned pub continues to gain popularity.
Founding heavy metal-loving homebrew spouses, Liz and Jared Kiraly, doubled their space and brought more brewing equipment when the place started humming along. In two-and-a-half years since August 2016, they've crafted three hundred small beer batches, creating an amazing one hundred-plus different draught offerings.
The left side fifteen-stooled L-shape bar (with canary yellow walls) features a few tables and multiple Edison lights. The serving station has twelve tap handles, one cask set up and a blackboard beer menu. Fabulous modern art crowds the walls and a left room drinking area has pinball and Ms. Pac Man games.
My wife and I visited Bone Up on a hazily sunny Saturday afternoon in May '19.
First up were the four flagship offerings.
Crisply light-bodied cream ale, Extra Naked, gathered floral lemon-oiled herbal musk for delicate maize-dried pilsner malting and restrained grainy hop pungency.
Next, approachable white ale, Key Lime, stayed dry as lactic key lime-juiced lemon meringue tartness settled above honeyed Graham Cracker wheat malts.
Straightforwardly easygoing India Pale Ale, Wasted Life, brought blitzing orange-peeled yellow grapefruit tanginess to subtle piney hop bittering and wispy floral accents.
Richly embittered robust porter, Shut Up Kelly, retained black-malted dark chocolate muck and nutty dark-roast coffee tones.
As for Bone Up's seasonal or one-off fare, there were a few pale ales left untried (Unholy Alliance; Dance Bob; Chaos Reigns ), but a grisette, hibiscus saison, smoked wheat ale and tripel got tasted.
Sessionable saison, Lawn Chair Grisette, maintained a lemony orange-peeled grapefruit tang reinforced by oats-dried barnyard acridity.
Tart pinkish amber farmhouse ale, Loretta, doused sweet-tart hibiscus florality with a white-peppered lemon twist and herbal saison yeast funk.
Bacon-smoked wheat ale, Oink!, let Band-aid-like beechwood astringency contrast humble bourbon-staved sweetness to its dry pale malt base, leaving petite meat-cured pastrami, salami and chorizo snips at the back end.
Creamily smooth tripel, Joybringer, relied on lingered banana spicing, candied citrus tartness, syrupy peach sweetness and salted pineapple zing to counter its musky herbal respite and dainty floral bouquet.
www.boneup.beer