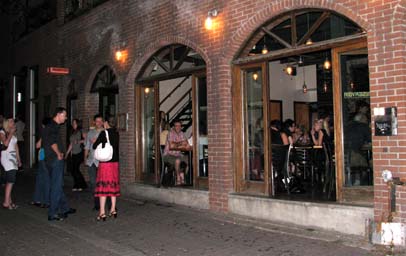 MONTREAL, CANADA
Just off St. Laurent on Duluth, small smoke-filled 100-capacity brick-exterior brewpub, RESERVOIR, gets busy with 5 o'clock crowd. Visited April '05, main bar area included open backside ovens offering calamari, fromage, salads, and oysters, plus table seating near front window. Brew tanks, an extra bar, and more seating are available upstairs.
On tap were three easy plowing beers and four more exquisite choices. Soft-fizzed lemon-candied grapefruit-soured Blonde, delicately buttered floral-perfumed lemon-orange-faded hefeweizen-styled Ambree De Ble, and soapy light-spiced stone-fruited lemongrass-hinted Blanche suited light-bodied drinkers.
More engaging fare included terrific Belgian-styled raisin-prune-soured cherry-sweet banana-bruised fig-juiced Triple, piney malt-smoked hop-charred Bitter and lactic coffee-roasted hazelnut-toasted soft-tongued stout-styled Noire. Mild hop-spiced, lemony grapefruit-embittered, peach-pitted Pale Ale was both light-bodied and distinguished.