KENILWORTH, NEW JERSEY
Occupying an unfinished white brick-walled warehouse in the Central Jersey Borough of Kenilworth, TWO TON BREWING originally came aboard as gypsy brewers in 2014 (utilizing Climax and High Point), opening its current taproom facility during 2018.
Two Ton's raw one-room space features a 12-plus draught board at the bark-sided mahogany serving station, a few wood tables, several silver brew tanks, an overhead back door (leading to the makeshift beer garden) and exposed ceiling ducts.
Owned and operated by brothers Matt and Jim and their Cubs-rooting father, Mario "Doc" Barbiere, Two Ton's family trio crafts enjoyable one-offs and some recurring brews, leaning heavily on crisply clean IPA's.
At the patio-furnished beer garden, I quaffed all available tapped fare, picking up a bottle of the fabulous lactic-aided Field Artillery Russian Imperial Stout (reviewed separately in the Beer Index) during Sunday afternoon pre-Halloween '20.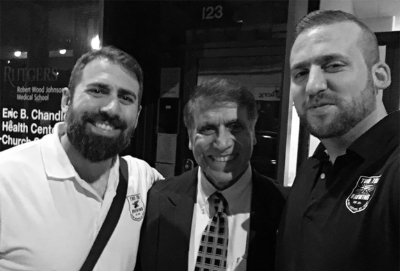 Nifty autumnal seasonals included dewy cereal grain-spiced Octbroberfest, a sedately appealing marzen with maple oats sweetness contrasting its leafy hop herbage. Also, dry Booing Pumpkin gathered gourdy ginger-spiced pleasantries, meshing mild brown-sugared nutmeg, cinnamon and allspice seasoning with sweet potato, acorn squash and buttercup pumpkin illusions.
Elegantly smooth Wrought Gold Blond utilized fruity English ale yeast to secure its polite lemony blood orange tartness and dry hop spicing above sweet doughy pilsner malts.
Liberated Lispering Gardens Saison spread floral cologne-perfumed bruised lemon tartness across pine-lacquered lavender oiling atop earthen barnyard leathering.
Soft-tongued Citra/Loral-hopped Robot Insurance New England IPA retained a juicily dry tropical fruiting above delicate crystal malts, mildly astringent grassy hop herbage, mikld pine tones and wafting floral nuances, bursting forth with tangy lemon-peeled grapefruit, navel orange, pineapple, mango, honeydew, peach and tangerine regalia.
Zestfully sharp Diamond Star Halo NEIPA let lemony grapefruit and orange rind bittering deepen its dry frontage, picking up peachy tangerine illusions above its pale malt spicing.
Another New England-styled IPA, The Fiffer, allowed limey coconut-milked grapefruit and orange rind bittering to accrue pine lacquered juniper musk.
Rummy coconut toasting sweetened confectionary nitro smoothie, Identity Crisis Coconut Brown Ale, a delicious dessert treat.
Creamily rich Extra Special Chocolate Vanilla Stout crammed Madagascar vanilla bean sugaring into Dutch cocoa splendor, bulking up its dry dark chocolate rummage with cedar-burnt cumin spicing and cayenne peppered coconut snips in fine dessert fashion.
Ancient Blues music was playing on the loud speakers when my wife and I revisited Two Ton, February '21 to try a few more worthy suds.
Maize-dried herbal perfumed hops and mild lemon spicing dotted mild grain-husked muskiness for Crispy Boi, a moderate German-styled pale lager.
Salty dog knockoff, Cap'n Vic's Salty Dog Gose, possessed crisply clean limey sea salting and lemon-twisted vodka briskness.
Buttery jasmine rice adjunct and tamped down hop restraint mellowed out juicy-fruited Super Saiyan Wild Rice IPA, as grapefruit-peeled mandarin orange and tangerine zesting enjoined candied pineapple tartness.
Lupulin-powdered herbal citrus zesting fronted NEIPA, Brothers From Another Mother, bringing bright grapefruit-peeled orange rind bittering to grassy hop astringency.
Rounded amber-cleared Imperial IPA, Hammer & Ale, combined orange vodka punch with candied Gummy Bear tartness and rummy molasses sweetness above pastry-like malt sugaring.
Creamy caramelized wheat malting fortified Laird's Wee Heavy, a heavenly Scottish ale with spiced toffee, roasted tobacco, dewy peat moss and almondine wine serenity.