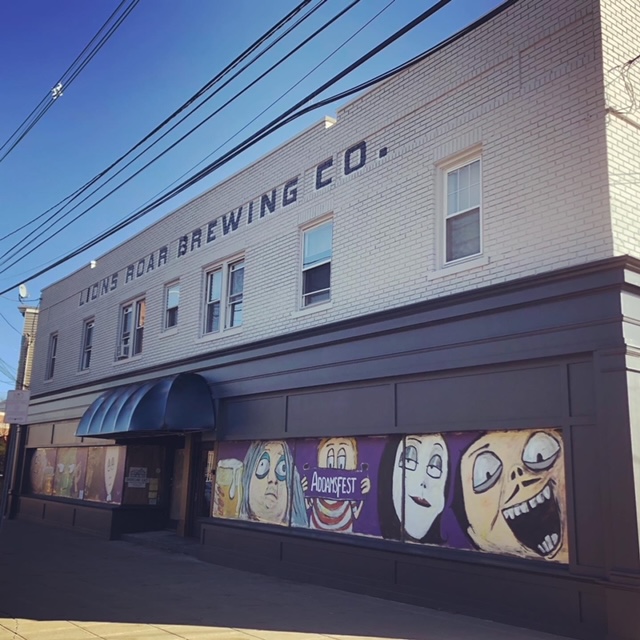 WESTFIELD, NEW JERSEY
In the heart of Westfield, LIONS ROAR BREWING COMPANY became the "Pride of the South Side" when co-owning spouses, Tim and Corrine Grant, opened this rustic cement-floored warehouse nanobrewery during February '21 as a friendly street-cornered neighborhood pub. Beginning as party-throwing home brewers, their love for Euro-styled beers and beyond proved inspirational as the local community supported the couple's efforts from the humble beginning.
Fun-loving carnivalesque windowed caricatures line the frontage of this white brick-topped industrial edifice. A large black and white-meshed mural blazes the back wall. The steam pipe-fitted draught lines drawn from the stainless steel brew tanks pour handcrafted product from the right side serving station.
A backyard wood-covered beer garden tent with plastic furnishings offered plenty of outside seating as we grabbed all five available beers this sunny Saturday afternoon, September '21.
Effervescent light body, La Patria Italian Pilsner, plied honeyed amber graining to lightly lemon-soured herbal Saaz-hopped florality over its mild doughy bread bottom for a smoothly clean finish.
Dryly raw-honeyed phenols secured Where's The Babysitter Blonde Honey Pale Ale, picking up grassy Noble hop herbage above milled grain flouring.
Brisk lemony orange tanginess and candied tangerine lingered sharply for How Great! Hazy Strong Pale Ale, placating its pale malt sugared base.
Ambitious Fallin' For Her Autumn Brown Ale bettered its staid stylistic rivals with vanilla-beaned ginger, clove, allspice, cinnamon and nutmeg pleating crisp hop foliage and mild toffee sweetness for a French Toast-like dessert.
Not to be outdone, Sleep's For Losers Cold Brew Coffee Ale utilized creamily milk-sugared Sumatrian coffee to amplify its brown chocolate, espresso and hazelnut influence, leaving mild peppery heat at the mocha-induced finish.