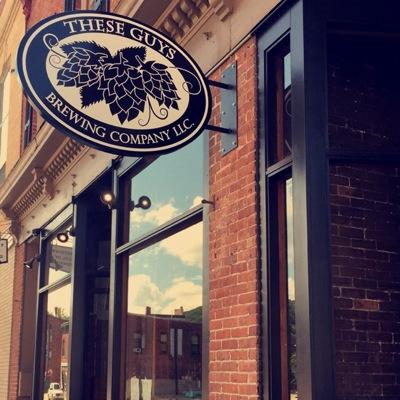 NORWICH, CONNECTICUT
A few doors down from Epicure Brewing in the historic harbor town of Norwich, THESE GUYS BREWING COMPANY resides inside the space once occupied by an 1890′s-built Prohibition Era pub. Its bronze stamped tile ceiling, rustic wood columns and exposed pipes bring back the feel of yesteryear while brewer Becka Alberts (formerly a Willimantic Brewing apprentice) crafts easygoing fare to go alongside healthy portions of pub food. A few well-chosen outside brews such as Allagash Wit are also available.
Open since August 2015, These Guys 15-seat front bar (with corner TV) serves several four-seat tables and a quaint solarium-draped back dining room.
During my mid-December '18 dinner excursion, imbibed five stylishly well-rounded brews (crafted at the hidden back tanks) to go alongside nachos, butternut squash and guacamole.
First up, approachable straw-hued moderation, Effed Up On Pils, brought peated corn whiskey snips to delicate yellow-orange fruiting, sweet oats-sugared pilsner malts and pithy Hallertau-hopped herbage.
Unfiltered American-styled wheat ale, Batch 100, stayed placid as mildly spiced citrus tones gained grassy hop astringency. light white wheat malting and wispy herbal notions.
Polite autumnal seasonal, Lil Narwitch Imperial Pumpkin Ale, pleated yam-spiced pumpkin roast into lemondrop-candied souring and caramelized pale malts.
Semi-sweet milk chocolate creaming eased into Kaiser Willie Oatmeal Stout, leaving ancillary dark-roasted coffee, cocoa nibs and espresso illusions to saddle toffee-spiced rye malts.
Before heading out, stylishly mild Timeout Corner Barleywine (a bashful 10% ABV collaboration with nearby Outer Light Brewing) placed tingly toffee-spiced sweetness alongside caramelized almond-buttered baked apple sedation.
theseguysbrewing.com