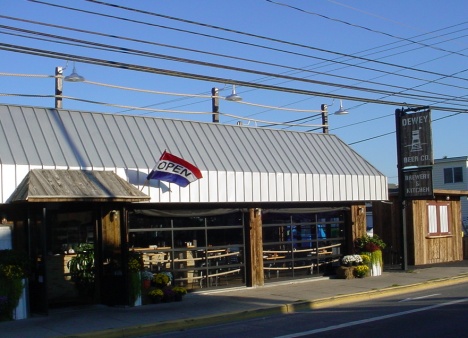 DEWEY BEACH, DELAWARE
Nothing like a rustic shack-like saloon to get thirsty beachcombers and surfers happy. Just a few blocks from the Atlantic Ocean and one mile south of Rehoboth Beach, DEWEY BEER COMPANY keeps this tiny beach community rockin' with its well-balanced small batch beers. Opened May '15, this metal and wood furnished pub serves specialized seafood, sandwiches and salads to go alongside its likable liquid fare.
Dewey Beer Company's low ceilings, small open kitchen, cozy cafe-styled seating, long community table and wood-lacquered bar (with silver brew tanks directly behind) provides relief from the summer heat and a much-needed off-season watering hole for the few hundred townsfolk.
My wife and I settled into Chick Pea Hummus and Plantain Nachos (sour-creamed Cuban picadillo beef, jalapeno, tomato and cheese dip scooped up by fried plantains) while downing nine distinctly varied homemade beers.
One of the first beers crafted at Dewey, sessionable American Pale Ale forwarded floral-perfumed sweetness to tangy citrus subtleties and contrasted dry wood tones.
'Crushable' light pilsner, Blonde's Blonde brought lemon-limed grapefruit zest and light melon hints to clean-watered mineral graining, utilizing tropical Sorachi, Citra and Galaxy hops to increase its easygoing citric nature.
The more pungent Imperial Blonde's Blonde picked up dry piney hop resin to embitter its lemony orange tang and sugar-spiced malts, staying just as crisp and clean as its aforementioned lighter version.
Hybridized Amber Batch 2 balanced pale-malted toasted caramel sweetness with dry-wooded IPA-like fruiting without getting too bitter.
Exhilarating Tripel Belgian strong ale laced candi-sugar sweetness thru lemon-spiced banana esters, zesty orange seltzer spritzing, floral hop resilience and peppery yeast herbage.
Easygoing Brown Ale imbued roasted chocolate sweetness with brown-sugared dried fruiting and wispy spicily-perfumed Cascade hops.
Bringing rye-grained Black patent malts to the fore, Do What's Rye'd (Black IPA) overrides its spicy dried fruiting with coffee-dried dark chocolate tones.
Mocha-bound wintry farmhouse ale, Chocolate Cherry Saison, relied upon spicy French saison yeast to awaken its dry cherry tartness, sweet banana subsidy and chocolate malt backbone.
Cold-infused Sumatra coffee invigorates Mo's Joe Stout, a smoothly subdued mocha-blackened digestif with light cocoa, chocolate and espresso tones settling above its sugary toasted oats spine.
www.deweybeerco.com