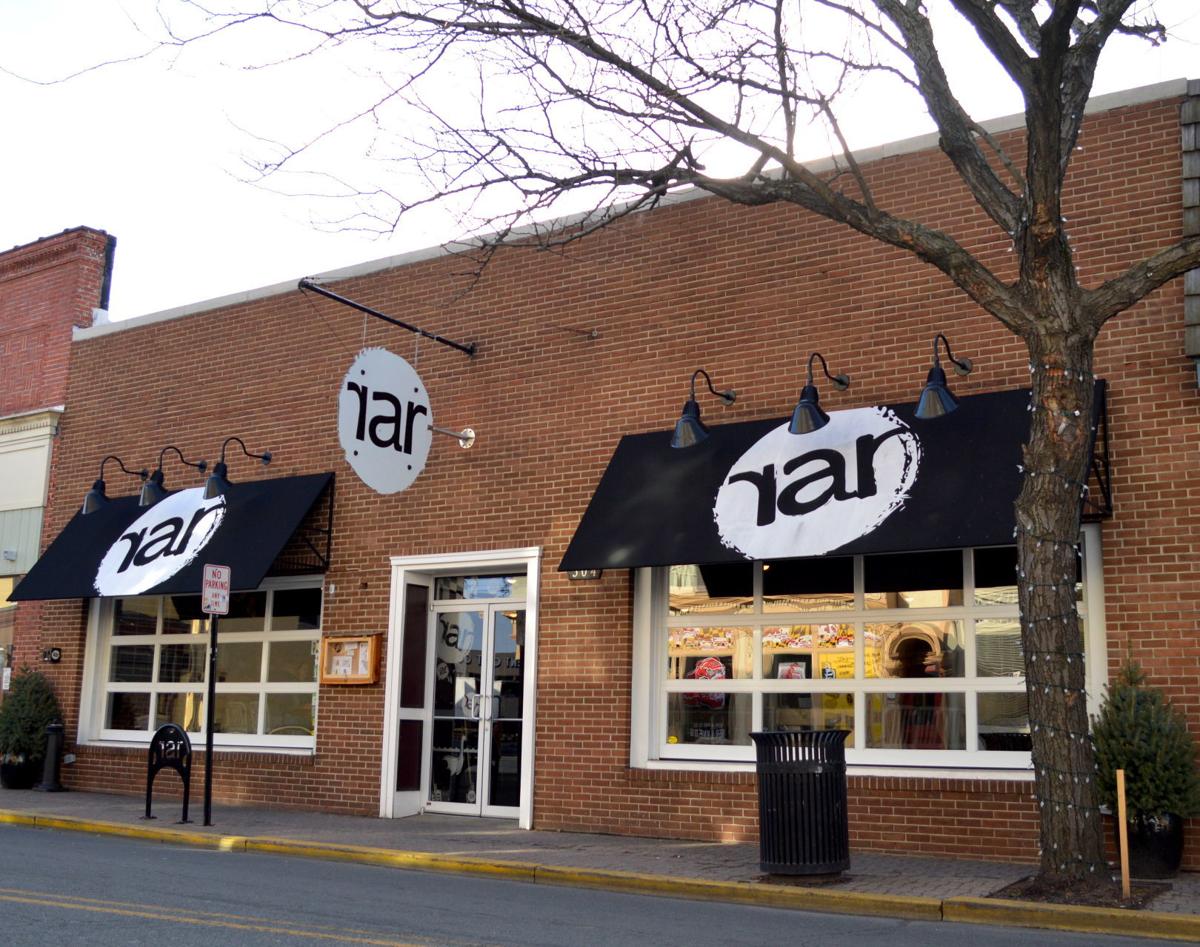 CAMBRIDGE, MARYLAND
Just a few blocks from Cambridge Creek in Chesepeake Bay's quaint Eastern Shore barrier, RAR BREWING (a.k.a. Reale Ale Revival) began its journey as a 'big time small town' pub in summer 2013. Alongside several local independent downtown shops, RAR's casual sportsbar atmosphere, light pub fare and well-balanced brews will please mainstream commoners and advanced thirsts.
Dual black RAR awnings greet customers to this former Cambridge pool hall. A convenient overhead-doored serving station benefits outdoor summertime seating. The left side bar features 12 taps of continuously rotating original fare as well as a TV, blackboard beer menu and beer infuser (for mixed one-off concoctions). Inits first seven years, RAR has crafted nearly 100 different beers.
The separate right side dining area provides varnished red oak tables and booths, white and black tiled floor plus cool mod pop artwork.
My wife and I got seats in the makeshift roadside patio (due to Wuhan Virus) on one-hour stopover, July '20.
Revealing evenly flavored tropical fruiting, Citra-hopped West Coast IPA, Nanticoke Nectar, retained an engagingly juicy grapefruit-orange bittering and sweet mango-nectarine tang above mild pine resin. Meanwhile, similarly styled Grapefruit Nectar brought mildly embittered yellow grapefruit splendor to tangerine-spiced tanginess over dry pale malts.
Lemondrop-candied banana and clove tartness surfaced for Groove City Hefe, exposing light floral-nipped herbal snips at the understated yellow-fruited finish.
Tropical Sabro hops allow easygoing grapefruit, orange, tangerine, mango, pineapple and coconut enticement to spread across floral-spiced cedar planking for Amatuer Sketch, a Double IPA.
Coffee-dried nuttiness and bittersweet dark chocolate consumed dark ale flagship, Bucktown Brown, gaining brown-sugared glazed walnut illusions at the caramelized mocha finish.